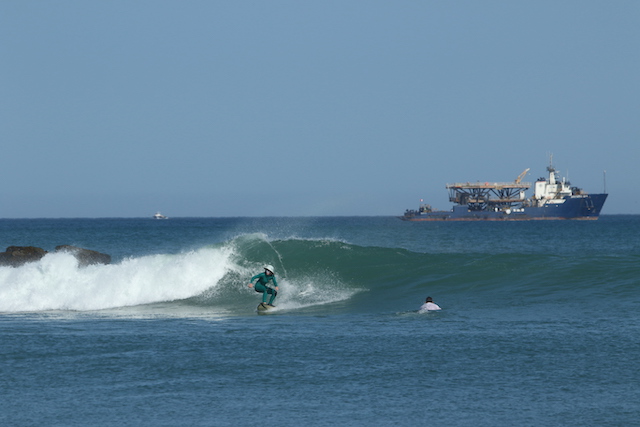 Written By Flannery, Latitudes Year '22 Peru
I started my time in Lobitos with three goals:
1. Become conversational in Spanish
2. Learn to surf a short board
3. Make one good friend
Not only were all three of those accomplished with surprising success, but the community of Lobitos (or as I like to call it, Loveitos) revealed to me hundreds of unexpected gifts.
Working with Waves for Development has been a complete joy. I spent the first month living at the simple and yet charming Wavesland. I would wake up at 6 am, put on my wetsuit, and start walking to 'La Punta' for a morning surf. Afterwards I ate a breakfast of eggs and fresh fruit that I cooked for myself. The rest of the morning I had time to read, take Spanish classes, or teach English. At Lunch 'El equipo de Waves' would meet at Dona's for some of the best food in the world. These meals quickly became my favorite. Not only was the fresh fish mouth watering but the table would often start with three of us and end with 10. Regardless of the initial language barrier, the community of Lobitos welcomed me with open arms. In the afternoons there was always time for a short nap but around 3 classes would begin. After classes I often would surf again, eat dinner (also delicious, Peruvain food is unbeatable) and spend time with my friends.
Waves offers a safe place for the Kids of Lobitos to have fun and learn. They have Surf, Skate, Art, English and Music Classes. I primarily focused on assisting with the Surf, Art and English programs. Participating in these workshops was an excellent way to get to know the kids, practice my Spanish and enjoy. The students were quite welcoming and charming and after just a short time I became attached. My favorite class of the week was the Girls Surf Club. It was empowering for me to spend time with such excited and motivated young women and to have a space in such a male dominated sport. The team of Waves is composed of hard working and inspiring people such as Henry. The founder of Waves Lobitos. He is beyond one of the most charismatic people I have ever met. He is hard working, intelligent, fun, artful and motivated. I learned so much and every day getting to work with him was a complete pleasure. His dedication to Waves is unmeasurable and his passion is contagious. I have so much respect for what he does. He has made something beautiful, and surrounds himself with a team of also impressive people. All of whom were so warm and welcoming. The organization is making changes on the ground level to further inspire a bright future for these kids. My experience was incredible and I know the next time I have a chunk of time in Lobitos I will return in some fashion.
Lobitos as a town is quite interesting. It's small, and has its quirks. Running water and electricity are sometimes hard to come by, and economic distress is prevalent. Meanwhile the community and culture is forceful. After only a few weeks it became impossible to walk to the tienda without running into someone I knew. A friendly "hola, qué tal? Chow" are all greetings I will be taking home with me. I expected my Latitudes semester to be a little lonely but it was quite the opposite. Almost every night there is some form of activity, there is a strong essence of music, art and sport everywhere you go. Murals on old buildings, concerts almost three nights a week, salsa dancing, soccer tournaments. It's sprinkled throughout the town. I found a home in Kapchay, a cultural center run by a friend named Junior. I met so many interesting people and began to work on music of my own. Surfing every day I met friends in the water that soon gave me tips and tricks on how to improve. And now when I go it's like a group of friends always there to cheer you on. We celebrate each other's successes. I played soccer one night with the local girls team but got my butt kicked, and was too scared to return. Despite that I still enjoy watching my friends play. There are not enough words to describe my love for Lobitos. I have never had a happier time in my life. It was sublime. I am now leaving with a heavy heart, I have so much respect and I am forever grateful for this experience.