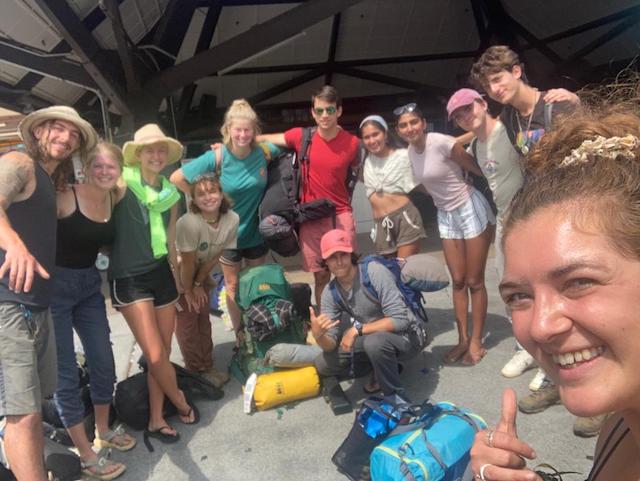 Written By OEs, Mara & Cahill
Hey Campers. This wild ride had to come to an end at some point, turns out that was last week! This time spent learning from our numerous kipunas, our crash course in living a life filled with kupono, and singing our oli everywhere we went cannot be summed up with words on a screen. To all those reading these very words, know that these experiences will forever be cherished by those who experienced them. There were tears, of joy and fear; these tears planted the seeds of this grand adventure. Some of which took root before our eyes, greedily snapping up the Hawaiian sun, while others will take years to germinate and emerge only when the time is right. Gathering these seeds with all of you has been the honor of our lives as OEs and as humans.
From day one, you were all invested in going deep into Hawaiian culture, recognizing that there is much more than the beautiful views that most visitors experience. We were blessed with opportunities to learn hula and how to make lei, work with kalo in a wide variety of forms, witness active lava flow, and engage with meaningful talk-story. We met Uncle George Kahumoku, whose legacy joined us on many adventures, and watched Hawaiian royalty march down the streets of Hilo. We enjoyed poi, laulau, mangosteens, PB-honey torts, poke, buttery ferns, acai bowls, handmade ice cream sandwiches, spicy flowers, many breakfasts for dinner, and more avocados than we could devour – twice! We caught waves on surf boards, listened to whale song, and even got up close and personal with sea flap-flaps (manta rays).
Our homes consisted of creaking bamboo, ocean views, lava rocks, and cozy hostels. You all quickly learned how to adapt to every environment — and celebrate at the sight of a drying rack! Showers took place under the stars, in bathing suits, and in a greenhouse. Along the way, we made friends with Priscillas, Reggies, Carloses, and the occasional meow. You taught each other countless things, from guitar chords to how to cook tofu and play silent football. Our days were often filled with book clubs, laughter, spitting bars, and singing everything from originals to 90s classics (Summer Girls!).
Our experience as OEs is entirely defined by the students. Thank you for creating a dynamic and space where everyone had so much support and room to grow, including the two of us. We were constantly blown away by your hard work ethic, inclusion, and intention. Whether it was from how well you navigated a hike together or deciding to donate the bulk of your student directed travel activity budget to carbon offsets, you never ceased to amaze us!
As mentioned in our reflections on the end of the semester, so much of the magic existed simply within the community that we created. We are eternally grateful for how open, engaged, encouraging, loving, and thoughtful each of you is. Everyone we interacted with continued to recognize and applaud the sincerity, maturity, and dedication of this incredible group. There was no task that you couldn't accomplish, whether it was clearing huge plots of weeds or hauling logs, most often with giant smiles and a game of contact. Opportunities were not taken for granted and so much deep reflection took place, individually and communally. We witnessed so much growth in each of you. We hope these seeds continue to be nurtured and grow over time.
We may never be Royals, but you're all Allstars! We hope that you continue to E Ho Mai wherever your life journeys take you! We can't wait for that reunion in Arizona!
All our love,
Chris McLean Cahill and Mara from Chicago