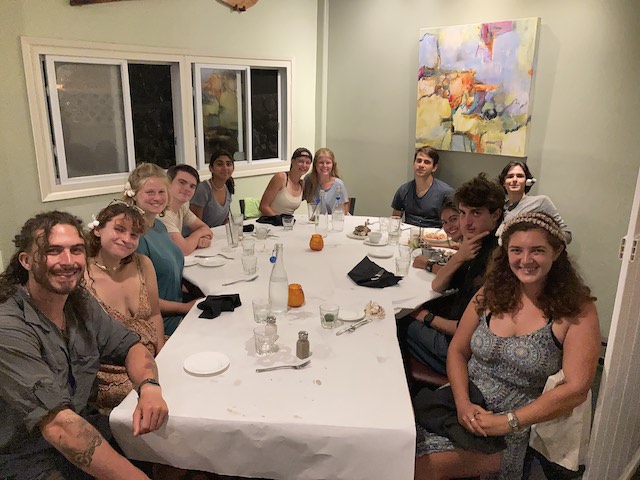 Written By Wynn & Emily
It's officially our last week on the program, and by the time friends and family read this, most of us in the group will probably be in the air or already landed at home. It is a very bittersweet ending, with everyone sad to say goodbye and also excited to see their loved ones again after seventy days. The past week was very full, with everything from pigs and fabulous food to birthdays and manta rays.
Wednesday morning saw us packing up our bags once again and loading our supplies into the vans to drive to our next camp spot. Everyone was sad to see the beds and a real roof go, but ready to have personal tent space for a few days. Along the way we stopped at a rest area and found a fabulous playground where the whole group let their inner child take the lead, climbing across complicated ropes and bars and trying not to fall off of the multiple pieces that spun in circles. For lunch we stopped at a cute little roadside restaurant and enjoyed a break from sitting in the cars. After the map led us twenty minutes in the wrong direction, we finally made it to Kapa Farms and were greeted by Uncle David, our host, who showed us around the area and gave us some orientation rules. A very nice man named Boyd came to the farm and enthusiastically told us many stories explaining the history of Hawai'i and the land we stand on. After getting our personal tents and other things set up, most of the group watched as two wild bores that Uncle had caught eating his sweet potatoes were harvested, and a few people participated by helping skin the pigs during processing. After an amazing and very full dinner, the group and people from the farm and community sat together. Lana and Max played guitar and ukulele, and everyone sang along to many songs.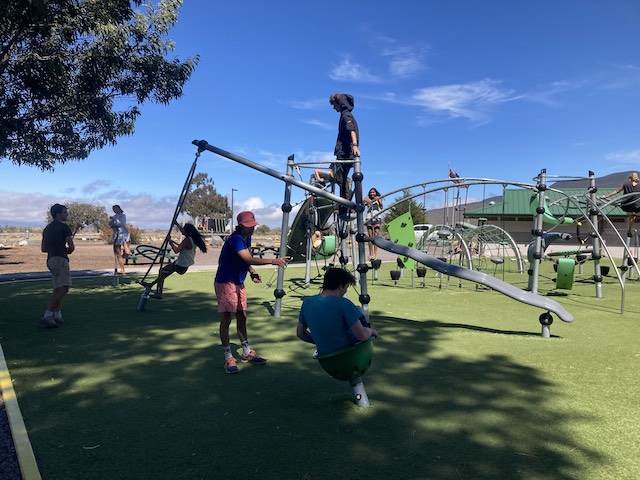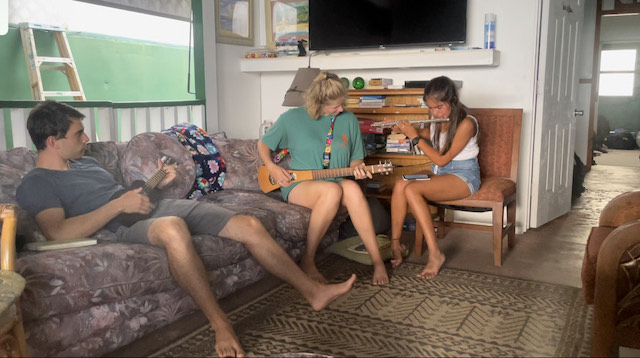 The next morning started with Uncle talking story for a while, after which everyone drove to his other farm called Hoea where we weeded a strip of land and then helped plant taro huli (children) and then hauled and dumped many wheelbarrows full of mulch to help the soil retain moisture and add nutrients. After lunch back at Kapa, Mara led some of the girls in a short session on female empowerment, self defense, and projecting your voice. In the afternoon, many members of the local Hawaiian community came to the farm to help prepare everything for the feast on Saturday. Three pigs, each weighing around five hundred pounds, were harvested. Two were prepped by scalding and the third was skinned, and most of the group was once again willing to get their hands dirty helping with the skinning. Gigi and Lana helped by washing and massaging pig hearts. Uncle David took all of the internal organs from one of the pigs in a tray and gave an educational, fascinating, and hands on lesson about several pig systems, including digestion and reproduction in females. Dinner was once again a vast array of delicious food made lovingly by Auntie Carol and enjoyed by many hungry stomachs.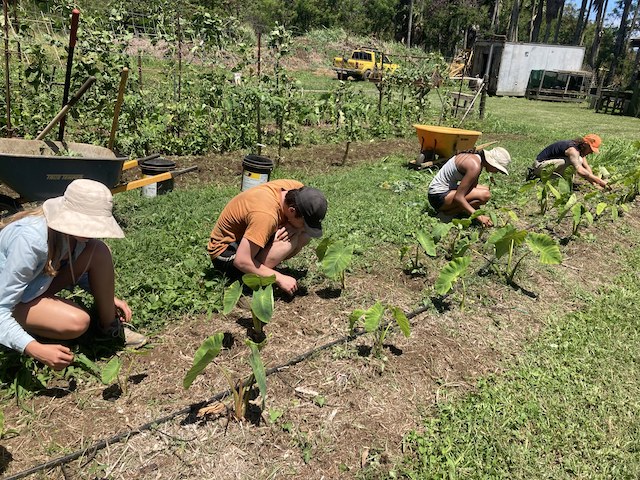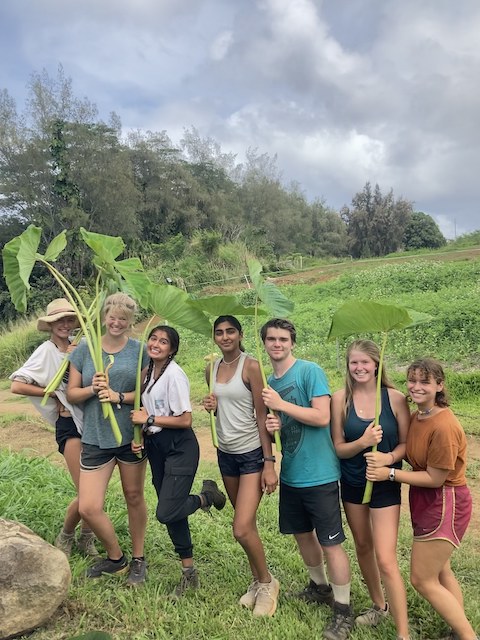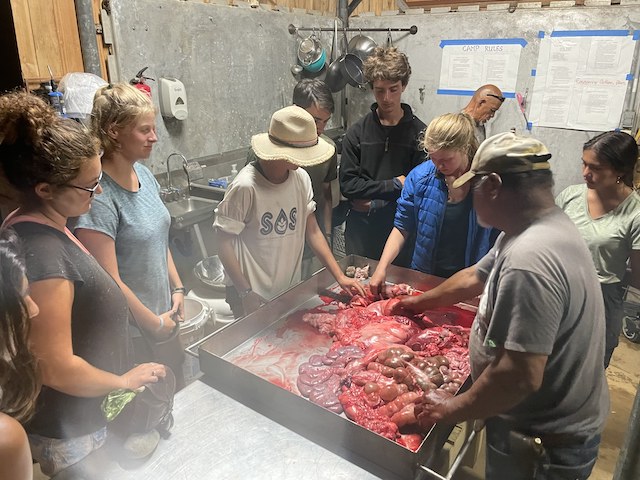 Friday started off strong with a Hula lesson that had us reminiscing about the Hula we learned all the way back at Kipuka Olowalu in the beginning of the trip. After getting all the steps, turns, and hand motions down, we helped out Uncle by weeding an area that will later be turned into a path leading to a gazebo to honor his late son. When the area was cleared, we dug up, washed, and prepped taro roots, stems, and leaves to be cooked in the feast. Some of the group helped peel the stems and discussed the riveting question of how to cast our group members in several classic movies like Shrek, Toy Story, Mean Girls, and Harry Potter. Later in the afternoon, the many people who helped harvest the pigs the day before came back to start the process of cooking the meat. Nothing is cooked in an oven, but instead in an IMU, which is a large hole in the group and a big metal lid as a cover to keep the heat in. We got a good fire going using some paper and a lot of wood, which was then covered in a few layers of porous rocks. As the fire burns the rocks absorb and hold heat which is in turn what cooks everything. When the fire had burnt down enough, the rocks were covered in banana stumps and a layer of tea leaves, two giant metal baskets which contained all the food to be cooked, including the pig, more tea leaves, burlap sacks, and then finally a plastic tarp, all to help hold in heat and cook everything. The metal lid was put back on, and everything was left overnight to cook.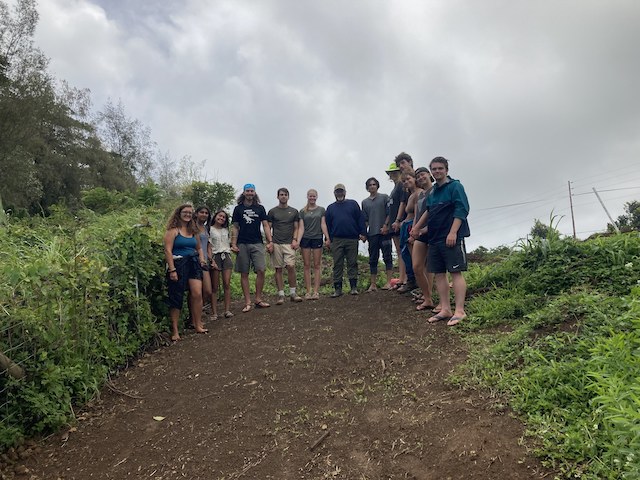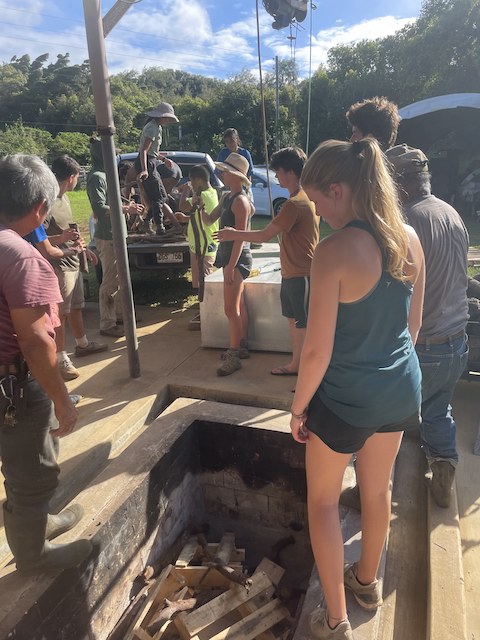 On Saturday, we were joined by Uncle's family and friends to start the rewarding work of prepping for the luau dinner. The large metal lid of the IMU revealed the meat, taro, and sweet potatoes which had all cooked up very well. The pork was unloaded onto large metal trays and everyone helped shred it into smaller pieces with plastic culinary claws. Everyone participated in making lunch and cleaning up the IMU, and when we finished we talked story with Uncle about some of the history of his land and values. Later, we drove a few minutes down the road to a majestic and ethereal waterfall where the whole group got in to swim, play, and sit on the vibrant green moss covered rocks while water pounded down around. Upon returning to camp, we showered, changed, and left to drive to Uncle and Auntie's house nearby. It was finally time for the luau feast. Appetizers were enjoyed as some of the group showed off their skills (or lack of skills) at a game of darts. Dinner included the pork that was cooked in the IMU, multiple varieties of taro, sweet potatoes, pasta, and lots of rice. Later in the evening Uncle led us in a kava circle where we went around one at a time and reflected on our experiences over the duration of the trip, as well as what we are grateful for. After speaking, each person drank a cup of the kava that Delia had helped Uncle prepare. Karaoke took up the rest of the evening, which would turn out to be the latest the group stayed up this whole trip. We sang many classics, including Bohemian Rhapsody, The Way I Loved You, Closer, All Star, Lean on Me, Summer Lovin', Summer Girls, Iris, and the groups theme song Royals. Mikayla was serenaded into her birthday with the Happy Birthday song at 12:05 on the 1st.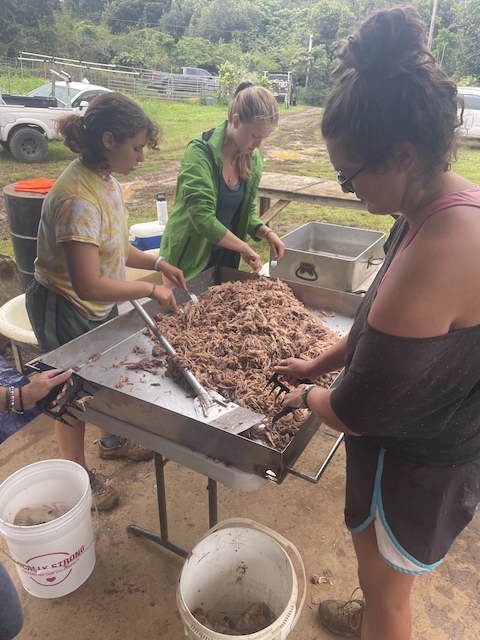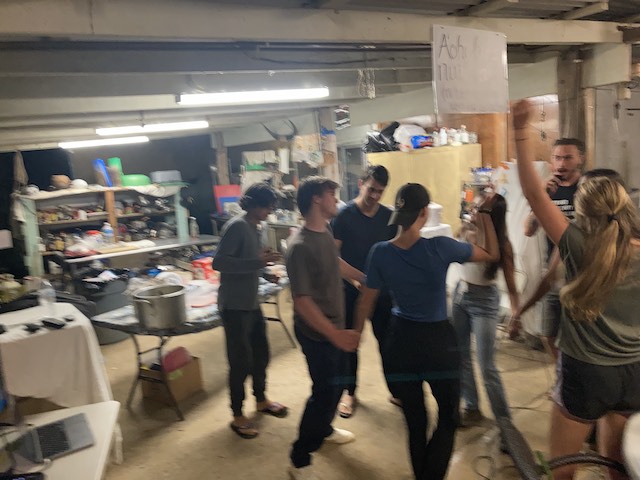 Mikayla's birthday morning was made complete with the gift of ice cream which we devoured in a few short minutes. Pouring rain kept us all company as we attempted to take down our tents for the last time. Everyone pitched in to help Uncle break down the rest of camp, and we finished our time at Kapa Farms with a last E Ho Mai (the oli, or chant, that we learned), exchanging ha (breath), and Uncle gifting us small bags of Hawaiian salt. Pololu Valley Lookout was our next stop, and as one of Mara's favorite spots on the island, it included jaw dropping views of ocean meeting cliff and cliff rising up all the way to the mountain tops. On the drive back to our first hostel, Pineapple Park, we stopped at Gypsea Gelato to enjoy Mikayla's birthday treat. After a quick stop at the hostel to drop our things off, we headed out for the surprise everyone had been looking forward to the whole week. Big Island Divers took us on a twenty-five minute boat ride to a small bay. With the sun setting on the horizon and lighting up the clouds with a gorgeous flaming orange color, we were informed that we would be snorkeling with manta rays! These breathtaking creatures and gentle giants have an impressive wingspan of 7-15 feet and weigh about 100lbs per foot. They are filter feeders and eat zooplankton and krill. Everyone put on wetsuits, fins, and snorkel gear, dropped in the water, and floated around holding on to a large board with powerful lights attached to the bottom that attract the zooplankton as well as other smaller fish. We were extremely lucky and saw upwards of ten manta rays swimming around, most of which came under the boards, and two that came close enough that we had to move our hands to avoid brushing up against them. These magical sea flap flaps (Cahill's words, not ours) were the perfect ending to our second to last day, and we are forever grateful that they are trusting enough to come so close.
The start of our last full day together, Monday, was a little slower, and after breakfast we had a conversation about moving back into everyday life, as well as integrating all the things we have learned throughout the program and allowing the ways we have grown to continue to blossom. We enjoyed a stellar lunch at a nearby food stand, and then spent most of the afternoon hanging out at the hostel, as well as played a final game of Ninja. While driving to our final dinner, we got distracted by the absolutely stunning sunset, and quickly took a detour to stop and watch it sink below the clouds and light the sky with purple and orange. The group then throughly enjoyed the feast that followed, with a variety of food from chicken and pasta to fresh fish. Back at the hostel, we reminisced about many of the memories and experiences over the past ten weeks which included lots of laughs all around.
As we drive to the airport and board our flights, each and every one of the amazing, unique, and vibrant people in our group of twelve will carry this trip with them for the rest of their lives. We all grew so much and were able to connect as a group in many unexpected and beautiful ways. We are forever grateful for all the people we had the privilege of meeting and working with, and for knowing that the work we did will continue to show and make a difference, even long after we are gone.
Wishing the best of times and lots of love,
Wynn and Emily