Carpe Diem Education has gone to great lengths to develop our Hawai'i program, which explores the beauty and diversity of Maui and the Big Island. We are excited to introduce you, our students, to some incredible educators, leaders, and organizers. Big gratitude for all of our local partners who have provided such great care, attention, fun, excitement, and education to our student groups!
Hawai'i: a land of elemental forces coming together to create one of the most extraordinary and beautiful ecosystems on earth. Located at the northern edge of the Polynesian triangle, the Hawaiian islands are host to the most isolated population center on Earth, resulting in a distinct culture that remains vital and alive today.
From active volcanoes and lush forests to the crashing waves of the Pacific Ocean, the landscape inspires awe and reverence for the power of nature. The connections between humans and their environment are deeply felt here, as the abundance from both land and sea have allowed civilization to flourish here for thousands of years. 
For those who love the natural world, come be humbled by the grandeur of the ocean, the migrations of whales, the vibrance of the land, and the magic of the Aloha. For those who wish to have greater insight into Hawaiian culture, the complexities of U.S. colonization, and the ongoing dialogue about Hawaiian sovereignty, land rights, and social justice, come learn about  important cultural and social issues that are happening within the United States.
Learning to surf, paddleboard, and canoe from local experts.
Trekking and camping in the lush Hawaiian wilderness.
Living and working on a regenerative farm/permaculture site.
Supporting local projects and communities through land-based service projects and learning about the unique ecology of the land and sea.
Introduction to Hawaiian culture and language and traditional knowledge such as star navigation, food systems, and mythology. 
Exploring effects of colonization, and the social, political, and environmental activism aimed at restoring Hawaiian sovereignty.
Participating in a mindfulness retreat designed to deepen into self, reflect on your journey, and integrate your experiences.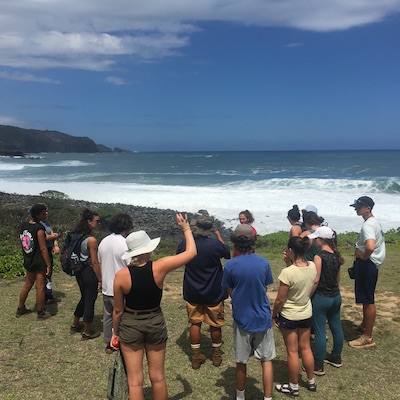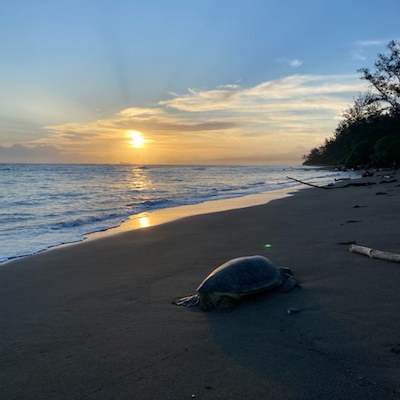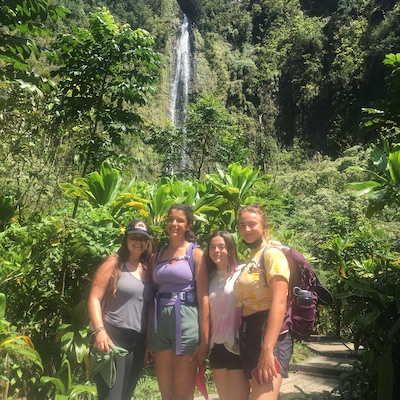 Fall 2022 and Spring 2023 programs pending regional travel announcements, border restrictions, and risk factors for host communities. Contact us with any questions.
Length
Semester
Program dates*
Fall 2022
September 14 - November 21
Spring 2023
February 23 - May 3
* Dates may fluctuate depending on flight times and availability.
Group Size
2 Overseas Educators and up to 13 students
Eligibility
Our typical student is between 17-22, though we sometimes work with students slightly outside that range depending on circumstances.
College Credit & Financial Aid
Learn more about: College Credit & Financial Aid
Language Requirements
None
Cost: 
$14,400
Program tuition includes all food, accommodations, and scheduled program activities for the duration of the program. Domestic airfare, travel insurance, and spending money are extra. Airfare to/from Hawai'i estimated $700 - $1,000 and an inter-island flight estimated at $60 - $100.
A statement on respectful and responsible travel:
We recognize that it is a privilege to visit these islands, and even more so in the midst of a pandemic. There is a unique and complex cultural and historical context to be acknowledged in the colonization of Hawaii by the United States. Carpe Diem requests that all students who sign up for this program prepare themselves to be heightened in their humility, sensitivity, and respect. Carpe Diem will do our best to prepare you for this before and during the program, as it is important to understand that, even as we are officially in the United States, we are navigating a distinct social and cultural landscape.
About Our Hawai'i Semester
We believe that our approach to program development is a defining aspect of our work. We place high value on responsible engagement with local communities, and prioritize relationships that are inclusive and beneficial to all participants.
The Carpe Diem Hawai'i program places emphasis on connection to land and nature. There will be a mix of work and play, an important aspect of life, especially so given our collective challenges this past year! Students will actively learn about biodiversity and sustainability while supporting local projects designed to preserve the local habitat and environment. The group will spend time surfing, snorkeling, hiking, and enjoying the magnificence of the Hawaiian land and sea. Cultural learning and insight will happen through working with locals, storytelling, and guest speakers. The majority of the program will be spent in a community setting, camping and cooking meals together, with an emphasis on being alive to the beauty and magic of the natural world.
Beginning in Maui, we'll have a few days for orientation, getting to know one another, setting goals, learning about Hawaiian culture from guest speakers, and diving into the specifics of the program. We stay at a developed campground right on the beach, and will take time to immerse ourselves in the environment by swimming, snorkeling, and sea kayaking. 
Giving back to the land that is hosting us,  we'll work with a local environmental and cultural organization and dive into a conservation project. This may include working with soil/erosion, watershed restoration, and planting of endemic plant species, all intended to promote the health and well-being of local ecosystems. Working alongside local conservation activists, we'll learn about the history of the area as it relates to resource extraction, current strategies to rehabilitate the area, and the role that earth stewardship plays in the health and well-being of our local and global communities. After the day's work, we'll swim in local streams, hike to a waterfall, or snorkel, and wind down with an epic sunset.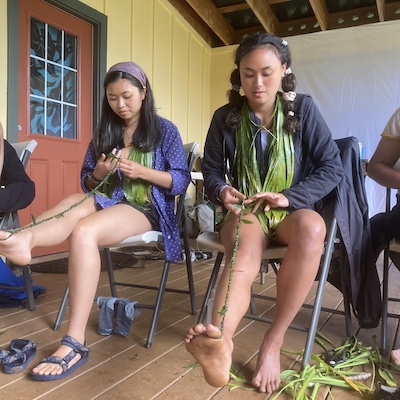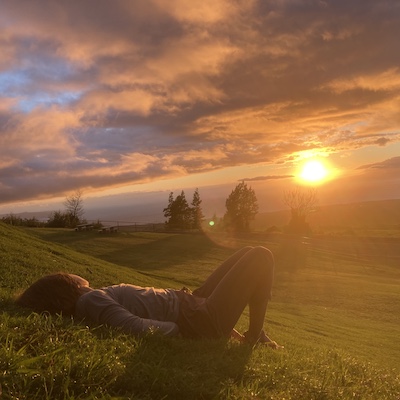 Deepening our connection with this beautiful landscape, we will live, camp, and work on a local organic farm and permaculture site. We'll focus on regenerative small-scale organic agriculture, environmental ethics, community living, nature connection, and permaculture. Hands-on activities will include aspects of vegetable production from seeding to harvesting, fruit tree orchard design and care, beekeeping and seed saving. Our hosts are wonderful educators and facilitators who place emphasis on the power of small-scale agriculture as a means to deepen community.
Turning our attention to outdoor adventure, we head to the ocean for some surfing, stand-up paddle boarding, and sea kayaking. The group will spend a few days playing in the ocean with expert local instructors. Depending on weather, one day may be spent snorkeling at a nearby location. We'll also take a couple of days to explore the beauty of Haleakalā National Park, one of only two places within Hawai'i that boast a sub-alpine ecosystem.
Taking time to reflect on our journey so far, we'll dive into a short mindfulness retreat that includes yoga, meditation, ayurveda, and reflective journaling. Mid-way through our journey, we take time to reflect upon and integrate our recent experiences as we look to the second half of the program. 
Transitioning to the Big Island, we'll enjoy a couple days getting to know our new surroundings. We'll visit Mauna Kea, a sacred site that, from its base in the sea to its peak, is the highest mountain in the world. We'll also check out some local surf and snorkel spots before diving into our next placement.
Expanding our perspective on conservation, we will focus on a week of reef education, exploration, and conservation. The Hawaiian reef system is essential to mitigating the effects of climate change, maintaining healthy marine ecosystems, and is home to the highest percentage of unique native species for warm water marine fishes anywhere on earth!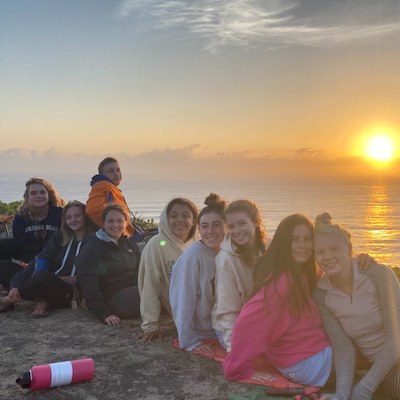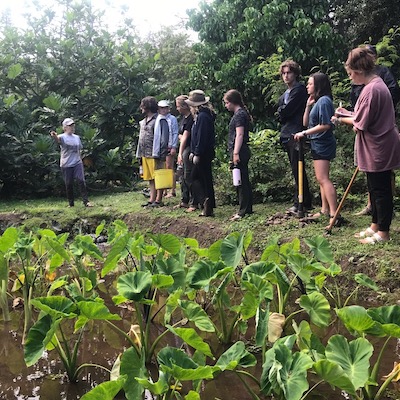 Working with and learning from a local nonprofit, we will explore different ways that Hawaiian communities are preserving their culture and heritage, the practice of loving and caring for the land (Mālama ʻĀina), and learn about indigenous Hawaiians efforts to reclaim ancestral lands and restore land rights.
Putting our travel savvy into practice, the group will plan, coordinate, and budget for 6 days of student directed travel. Explore Volcanoes National Park, soak in the Pohoiki and Ahalanui hot pools, discover the magic of Waipi'o Valley, or spend a few days refining your surf skills!
Carpe Diem Education's Hawai'i semester takes you on a journey through one of the most bio-diverse, majestic regions on the planet. Learning about sustainable practices, environmental conservation, and the relationship between land and people, you'll have a better understanding of how you want to contribute to the world. Learning about indigenous cultures right here in the United States, you'll have a chance to deepen your awareness of the impacts of colonization (past and present), and learn more about the decolonization movement happening through social, political, and environmental activism.
Questions We'll Explore:
What are some exciting and meaningful ways of connecting with the natural world?

How do permaculture and organic farming methods enhance people's connection to local food systems, as well as their relationship with the local environment?

How are local Hawaiians working to preserve the beauty and sanctity of the environment through conservation, education, and traditional systems of agriculture?

How are social and environmental justice connected, and how do these relate to traditional Hawaiian culture?