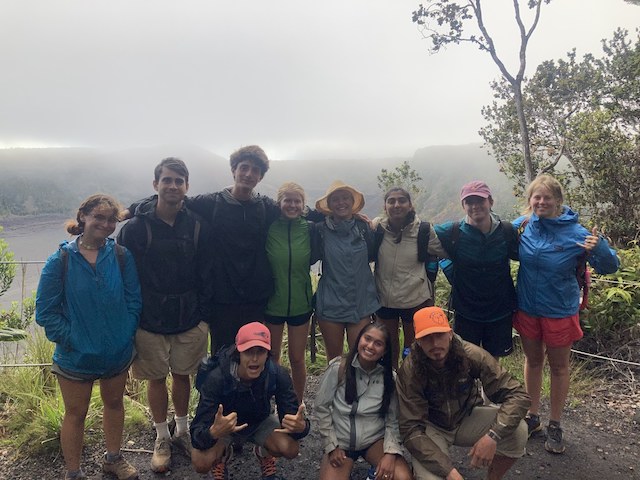 Written By Gigi & Delia
This week Mara and Cahill were dismissed from scheduling obligations and joined the chicken ranks for our student led travel week! Dun dun dun!!!! Destined to be the most chaotic but definitely not lacking in fun, we started our week by wrapping up our time in Miloli'i. The group participated in a town hearing to push forward legislation proposed by the village to protect 18 miles of coastline waters from overfishing. Each of us testified in support of their management rules package and earned a hearty traditional Hawaiian meal of poke, sweet potato, rice, greens, and poi. On Thursday, we spent our morning working with Malama Miloli'i Kipuka again, restoring their space near the town. They treated us to a fantastic lunch where we enjoyed our kava and listened to many stories. Our friends from the village asked us to play pick up volleyball with them, and so nearly the whole group spent the afternoon bumping, setting, and spiking away. Luke's tennis skills translated into a seriously dangerous serve. Friday morning, we wrapped up our time in Miloli'i by talking about the earth and what we can do to protect it. We bid goodbye to the rocky beach and our beds under the stars, and journeyed in our trusty vans, Zona and Motz, to our new hostel on the eastern side of the island.
In Hilo we had the opportunity to see the grand Merrie Monarch festival and Hula competition on Saturday! We watched the parade, which included many marching bands, 4-legged muscle floofs (horses yuh :D), literal Queens and Princesses, and lively dances and performances. To commence Luke's birthday celebrations, Emily and Luke went head to head in a tennis match, after which we moseyed on down to a farmers market near by. Our afternoon took an unexpected twist when, on our hike to a craft fair nearby, a boat under the bridge caught Gigi's eye. In doing what she does best, being kind to literally everyone (not her words, just to be clear), she called out to sailors on a boat " I like your boat!" And awarded us an invitation to go sailing. We met many wonderful people. From Captain Mac, a retired astronomer who worked on the observatories on Mauna kea; to Will, a turtle conservationist (who's summer job was fighting lava fires?!) ; to a kind elder couple who gave us a fair share of chips and chocolate covered espresso beans. Gigi and Cahill each had a hand at steering the boat, but the real pro of the day was Wynn, who co-captained that boat like a boss. After a full day of fun, we headed back home and finished celebrating Luke's birthday with lots of ice cream and pies. Sunday saw us back in Hilo to do more shopping and exploring, which definitely didn't disappoint! Max walked probably four miles on his own, jetting about town, while Andrew and Luke invested in some bling to try to catch up to Lana's wonderful collection (that means they shopped for rings, and enjoyed themselves by walking around town). Mikayla and Lana met a wonderful angel of a human at the craft market named Kim, and hopefully sparked a friendship that will last a long while! Emily, Wynn and Delia let the winds of unexpectedness blow them into a new axe throwing, rage room, "smash it", establishment. They had the whole place to them selves and were even allowed to play their own hype music! Of course the only rage room appropriate music, was a playlist deemed as " bank robber music", ranging from T Swift to Five Finger Death Punch. The owners of the establishment thought the music was befitting yet surprising ha! For quote " You ladies scare me"- Owner guy. We finished the night off with a filling Thai meal. Monday saw our group make its way to Volcanoes National Park. We were treated to delicious pancakes, courtesy of Wynn and Mikayla, and then walked amongst steam vents and neon colored sulfur deposits, ventured through lava tubes, and hiked all the way to the lookout point of an active lava flow! The jewel of the park, this brilliant hot Earth goo took our breaths away and capped off our day trip. This week has had a beautiful balance of zen time and crazy adventures. And we are all excited to see what the last few bitter sweet days of our trip will bring!
Adios for now muchachossss
-Gigi, Delia and