Written by Ty & Katie
Aloha from Ty and Katie,
We started off our week by working with Kia'i, continuing our work on the stream pulling weeds. Nicco helped organize us when we pulled large weeds using a rope. Ben then heroically worked during lunch to machete the remaining weeds in the stream. That afternoon we hung out at camp and Gus and Cooper built a huge fire.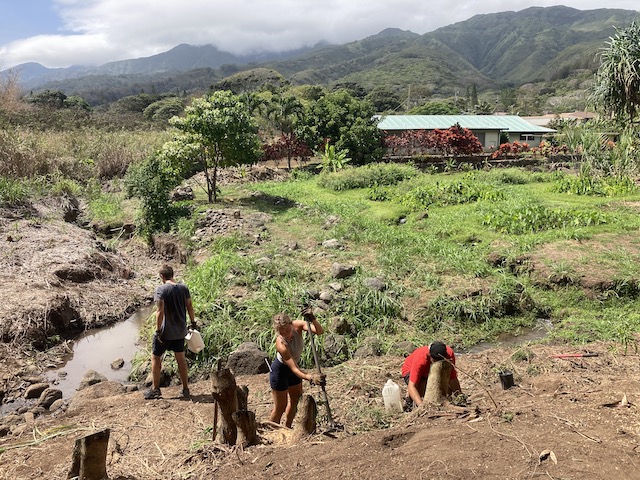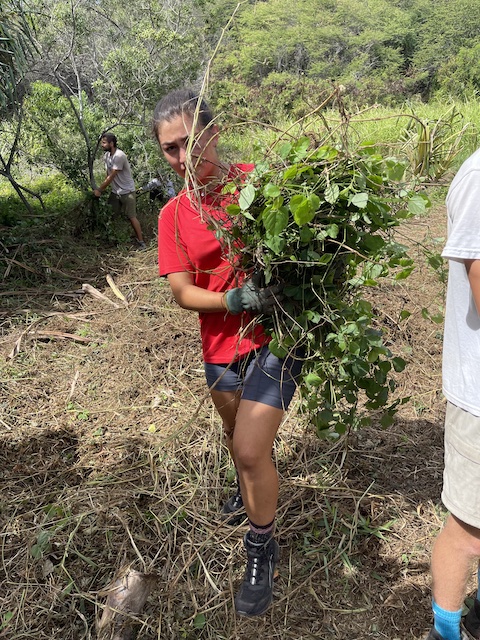 On Wednesday, we finished our work at the stream with Kia'i. Belle overcame her arachnophobia by working in a spider infested environment. Aleia, Ty, Katie, and Calvin planted more trees and bushes to prevent erosion of the stream. After work, Katharine and others went for a walk to the river nearby to hang out while the rest of the group took naps.
On Thursday, we were going to go to another location to build fences; however, Kia'i had an emergency and we ended up going for a hike along the Makamakaole Stream Trailhead. This was our first hike of the trip and it had a waterfall that we were able to swim in at the end. The water was pretty cold, but was still such a fun experience. Ben caused some giggles within the group with an amazing belly flop into the water.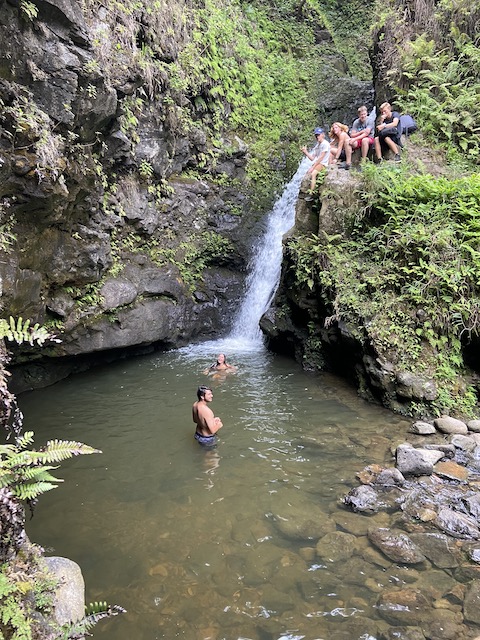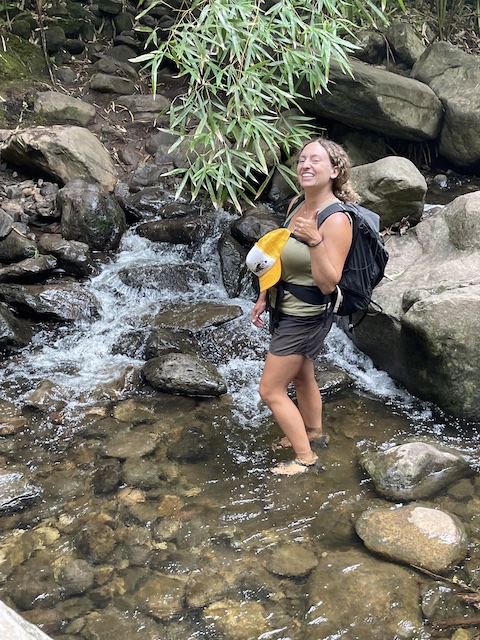 On our last day working with Kia'i, we worked with local volunteers pulling weeds and planting some native Hala trees. Afterwards, Nathan enlightened our minds with a magical Carpe Diem Lesson (a.k.a. a CDL) on feedback. Once we were done learning, we went to local food trucks where we had some delicious food. Rachel enjoyed some yummy Thai food and met a stray cat.
On Saturday, we slept in before going to a swap meet market in Kahului, where we found lots of handmade crafts, yummy food, and a lot of us bought flowy pants. After going to the market, we went to a beach with a big grassy area where we played capture the flag and did some acro balance. We also were fortunate enough to see three really cute dogs and hang out with them for a bit. Then we had our last dinner and fire with our amazing hosts!
On Sunday, our last morning at the refuge, we packed up camp and traveled over to our next host, a local organic farm. During the car ride we stopped at Walmart where Amanda, Vanessa, and Loden got a whole new wardrobe and the rest of the group got snacks. After arriving, we met with our contact Evan for orientation for our last stop in Maui.