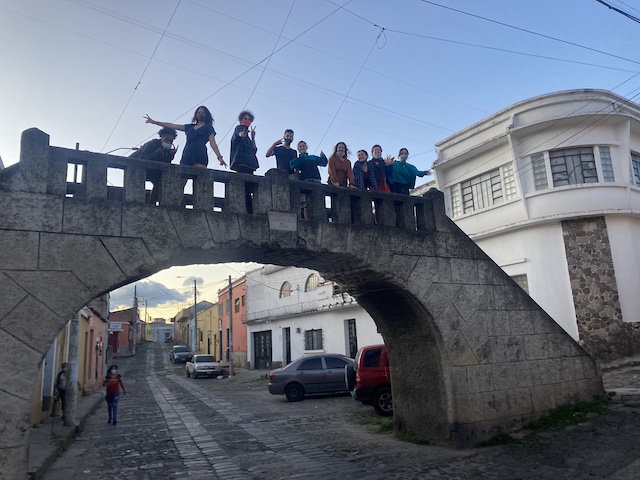 Written By Ava & Ana
Hola a todos!
Our new adventures in Xela started with new student leaders, Ava and Ana! After our bittersweet adios with the Long Way Home family, our group unpacked our bags and settled into our new cozy hostel located in downtown Xela. As we began to explore our new home we were quick to discover Xelapan, a marvelous bakery filled with dozens of delicious pastries and breads, which became a staple after-school stop.
Our mornings started with our lovely chefs, Teresa and Irma cooking us all a diverse and delicious breakfast. After rushing to get our bags packed for the day, we caught a glimpse of everyday life in Xela on our way to our school, PLQ (Proyecto Linguistico Quetzalteco). Although five hours of one-on-one learning seemed daunting to the group, we were introduced to our individual teachers and welcomed with open arms into their tight-knit community. With everyone in our group learning at different levels of Spanish, we valued that each teacher were able to skillfully work with our individual learning styles.
Our days at PLQ typically ended with one of several organized activities through the school. After we finished class, we gathered to listen to guest speakers tell their personal experiences with migration, as well as sharing a unique life perspective as a former member of the guerillas. To balance a full day of school, we squeezed in the back of a pick up truck and held on to each other as we ventured into the Southern part of Xela for a partido de futbol!
The rest of our week was filled with open afternoons giving us the independence to explore the city. With lunches at local empanada stands, various restaurants, and of course, Xelapan, our taste palates were invigorated! A delicious group lunch was shared at a wonderful Thai restaurant to celebrate Kaeley's 20th birthday, along with a chocolate cake, and per tradition, a beautiful rendition of Feliz Cumpleaños!
With continued structure in the mornings, we relished our open afternoons, especially the several excursions to MegaPaca, a massive clothing store, for last minute purchases of puffy jackets for our upcoming trek, and warm hoodies for newly shaven heads. Our final Spanish class on Friday was filled with mixed emotions, following our graduation speeches, a lovely buffet of food, and bittersweet goodbyes with our newly befriended teachers.
Our last day in Xela turned into a last minute excursion to a 16-slide water park approximately an hour and a half outside of the city. The humid weather down by the coast made for a perfect day filled with adrenaline inducing water attractions as well as relaxing tube time in the lazy river. This much needed day of pure fun left us exhausted but so excited for our next stay in Pachaj. Adios amigos!
-Ava and Ana