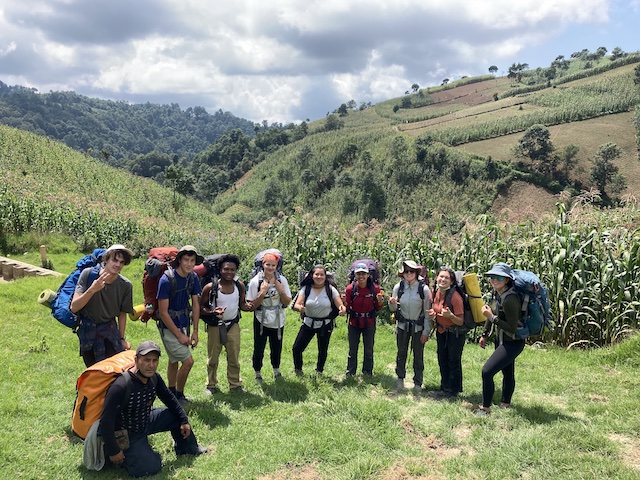 Written By Kaeley & Sophie
¡Buenas tardes from Pachaj! It has been a busy, yet absolutely wonderful, week. During our time in Pachaj, we had the privilege of experiencing Guatemala's lifestyle through living with host families. We also had the privilege to serve this culture and these people by helping to protect their forests. To finish up the week, we had the incredible opportunity of exploring more developed versions of the forests we worked on by going on a three day trek through the Pachaj countryside. It has been a great week; we are so excited to share it with you.
Coming from an intensive week of Spanish class in Xela, we all had enhanced knowledge of the Spanish language. This knowledge became very handy in our week of living with and becoming part of the families of indigenous people of Pachaj. As we continued to develop our Spanish speaking abilities (over breakfast, lunch, dinner, and late night family parties), we gained profound bonds with our host families and their culture. It was an eye opening experience that none of us could have ever expected.
During our week with host families, our group spent time between meals (tortillas) at a reforestation cooperative called Chico Mendes. The Guatemalan government does not have many laws in place to protect their native wildlife, and as a result, many companies from other parts of the world are reaping the benefits and destroying native ecology. Fortunately, the people of Guatemala value their forests immensely and take a stand against these companies. A leading force in this movement is Chico Mendes: the cooperative we got to work with. In Guatemala there are specific species of trees that are illegal to cut. Chico Mendes uses these laws as their gunpowder, planting trees that are protected under law inside pre-existing forests. During our time with Chico Mendes, we helped the cooperative plant over 3000 trees to protect the forests around Pachaj. It was an honor to be a part of this work and to know the impact we made towards Chico Mendes's cause. To put it in the words of our supervisors: the amount of trees we planted would take the cooperative's current staff one month to do themselves. It was an extremely serene and rewarding experience.
To end the week was something the entire group was pretty hyped about: THE TREK! Hiking into the mountains that silhouette Pachaj's township we passed towering versions of the Fir and Cypress trees we planted in the days before. We followed our local tour guides to some of the most beautiful places I'd say I've ever been. After many trees planted and many miles walked, we ended our trek and our time in Pachaj with a beautiful sunrise hike on Rostro Maya (The Mayan Face.)
It was quite a blessing to spend so much time this week out in nature. We had an incredible time in Pachaj.