Written By OEs, Soumya & Ryan
To our lovely readers who have followed along all this way, gracias! It's your favorite OE team, Soumya and Ryan, despidiendonos from the sweet concrete jungle that is San José. Yesterday, we said our final adios to our Carpe crew who have been our family and friends for the last three months (complete with obligatory and very fashionable white bucket hats). As we close out another glorious semester, we want to revisit the journey we've taken.
At the beginning of it all, we arrived in LAX with our hopes, worries, and oversized backpacks with three towels too many (don't worry; we gave them away along the way). We got a taste for a true Carpe beginning with the world's most awkward name game where we cringed and self-identified as "holistic" and "epic" (was it true? To be determined…). When we arrived in Guatemala in the wee hours of the morning, we were stunned to be greeted by a beautiful sunrise over Volcanes Agua and Fuego over the picturesque valley of Jocotenango, just outside of Antigua. During orientation in these early days, we made up our own songs in the temescal, ate way too many french fries, supported Jane supporting local bees, figured out who did the best split, explored our various perspectives over social and political issues, learned how to stay safe (look both ways, don't drink the water, and wash your hands), and got lost exploring the countryside and its greenery on a hike. We marveled over Volcán Fuego erupting at night and misplaced our passports and money and cell phone (I'm not naming names). Finally, we explored Antigua's cobblestone streets in a meticulously-made scavenger hunt and made our first Carpe sacrifice, cutting Ryan's shirt into Carpe's first ever group flag.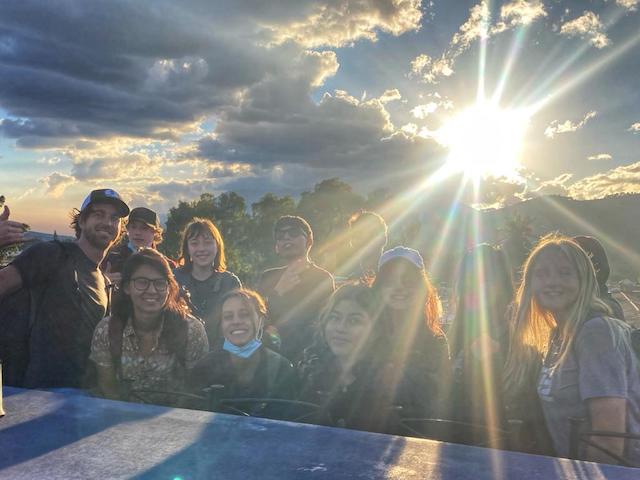 From there, we rolled into the quiet and artistic town of Comalapa, blasting reggaeton along the way. In Comalapa, we got dirty and pretty much stayed that way, channeled cumbia music into our feet to make earthen bricks, tussled over the pila and being the first to shower, got seconds and thirds (and fourths!) of Doña Antonia's amazing home-cooked meals, began imagining Rohan's voice to fall asleep (our Green Academy instructor), bonded over shared GI issues, and made Elliot skip around the room for his birthday. We let loose in pool and tried all the street food, put our design skills to the test with collaborative group green building projects, got swole from all of the tires we pounded, accidentally kicked Omar in the face in futbol, didn't eat enough chocofrutas, made fools of ourselves playing Quidditch, and were treated to cob oven-made pizza by Matt. We also began asking important questions about the nature of service and what our role as volunteers and learners from the US in this space was.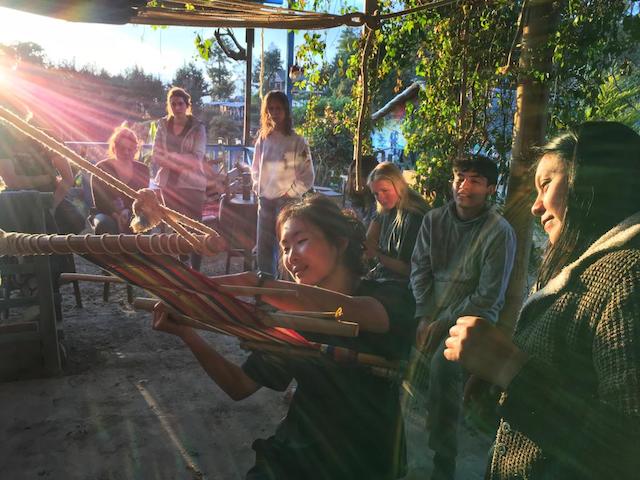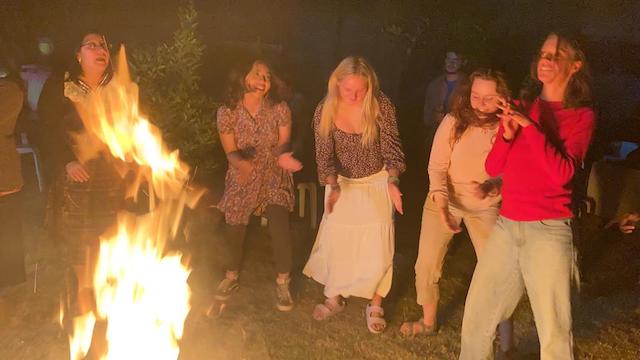 From Comalapa, we went on to enjoy the comforts of Xela, where we met our first homestay families and Spanish teachers. We learned how to salsa (uno dos tres, cuatro cinco seis), two-stepped with Emma, listened to testimonies on the Guatemalan armed conflict and feminism in Guatemala, got our butts kicked in futbol by our Spanish teachers and other students we befriended at PLQ, and took our first ride in pick-up trucks. We spent a day yelling and sliding and slipping around Xocomil water park (RIP Elliot's flip-flops), and ate way too many baked goods and paletas. We topped it all off by birthing two baldies: Emma and Matt, and by taking Saúl out salsa dancing for his birthday.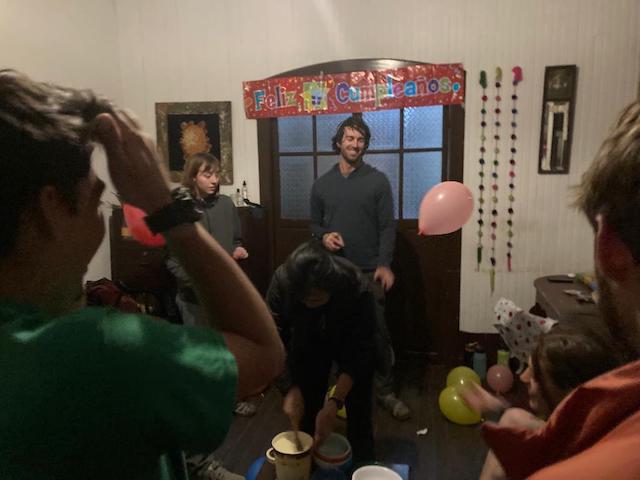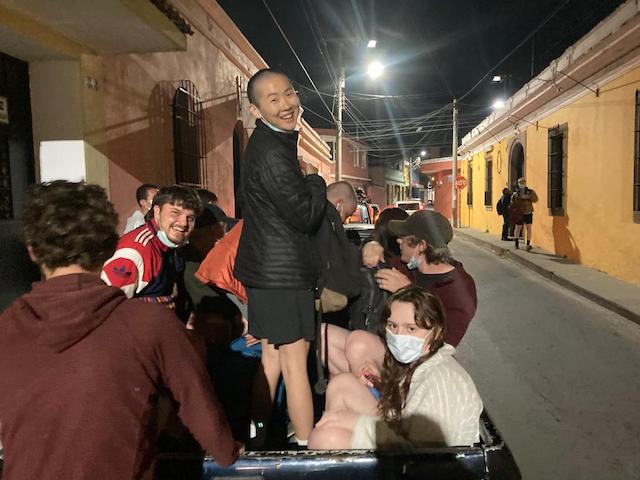 In Pachaj, we braved a new set of homestays, had arguably the best chocobananos ever, moved around a lot of dirt, impressed the OEs with our cooking (who knew radishes on tostadas could be so good?), witnessed a beautiful Mayan ceremony at dusk and put our best intentions out there, and began our trek! We left our blood, sweat and tears on the trail and traveled through beautiful corn fields, forests, and over rivers. We roasted marshmallows, steamed up in temascals, ate way too many carbs, and tried wild tomatoes and lemons. We went up & up & up and pretty much kept going, got soaked in the rain and basically ran down a mountain, showed off our talents & booties, and watched the world's most beautiful sunrise over Lago Atitlán.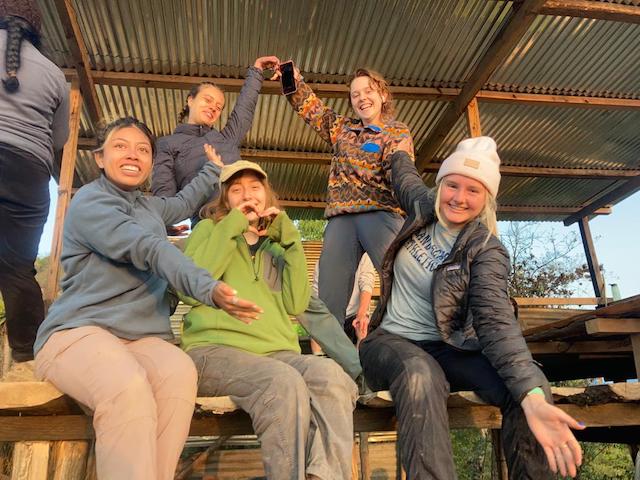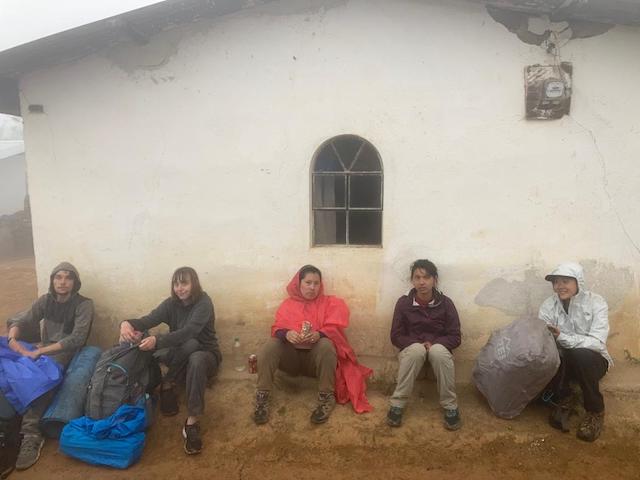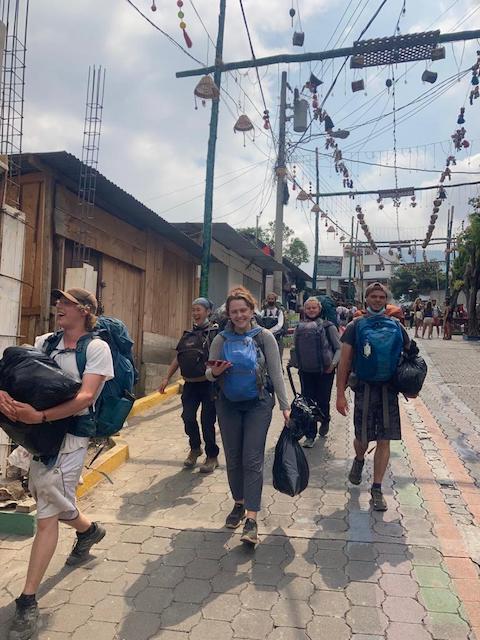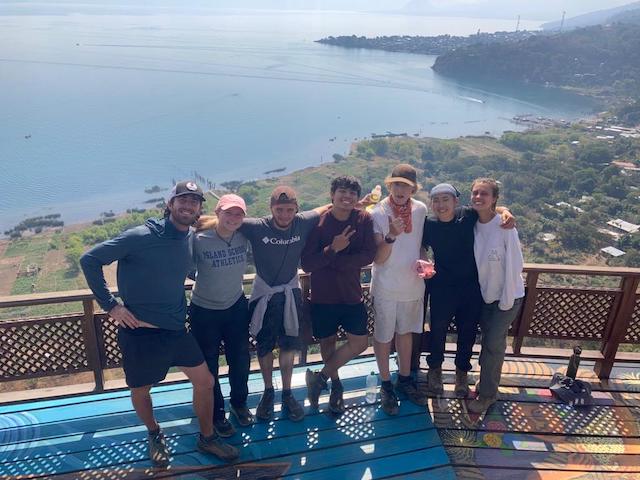 We landed in San Marcos and had many fruitful discussions about the culture of foreigners, meditation, and spirituality there. We soaked in the meditative time at Las Pirámides and learned about spirituality and metaphysics, swam in the deep blue waters of the reserve, acquired one swing too many, stretched our bodies in new ways through yoga with a bird's eye view of the lake, and had an officially-Carpe mid-semester ceremony, complete with string bracelets, candles, and lots of love and appreciation.
In San Juan, we slowed down and spent time with our homestay families, sampled endless amounts of honey, kayaked in the lake, rode horses, tried on the traditional traje, and played lots of games at the school with our teachers. We lost (and found) our passport (again) and admired the local art bursting from the murals that blossomed around town and we even tried our hands weaving our own scarves using the traditional backstrap loom.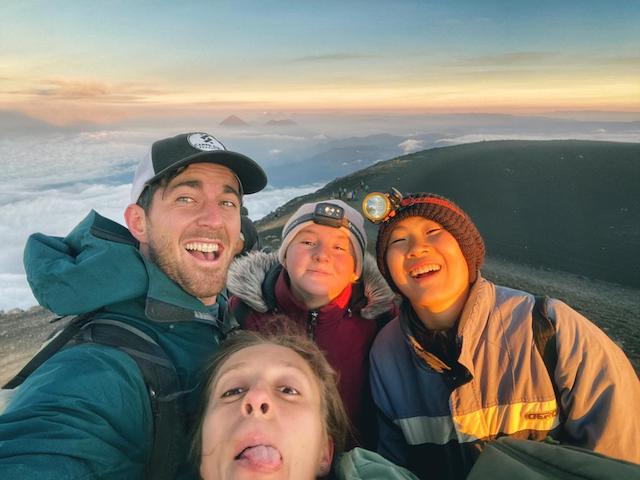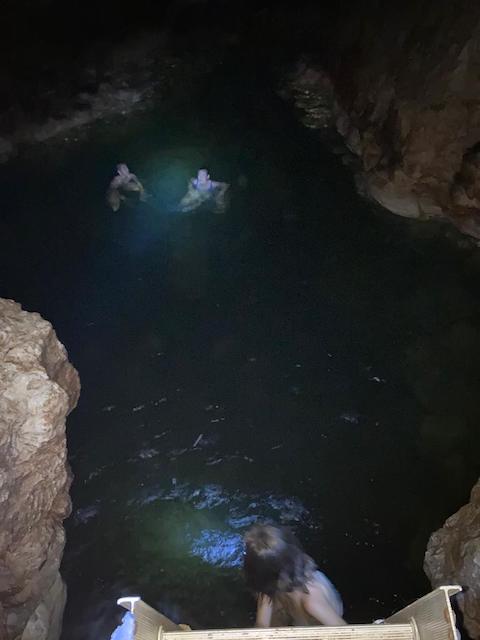 From there we kicked off Student Directed Travel, heading to Antigua where we were bombarded with the Semana Santa procession – and got stuck amid hundreds of purple-clad participants. We left our shit (metaphorical and physical) on Volcán Fuego, didn't get enough sleep, cried over the sunrise, and moved on to Río Dulce, dirty but happy. In Río Dulce, we swam and treasure-hunted in hot springs waterfalls, trusted a random dude and explored caves, descended into the valley of the most sick we've ever been and surfaced again, were afflicted with "breadthroat", soaked in the sunset on a beautiful boat ride down the river, splashed around clear blue swimming holes by the Caribbean Sea, scrubbed copious amounts of sulfuric mud into our faces for some self-care, and shrieked as we dove into the deep pools of an abyss of a silent and dark cave fit for Gollum.
We said our farewells and our gratitudes to Guatemala and all its majesty and, one plane ride later, found ourselves in the Costa Rican valley town of Turrialba, famous for cheese. We reveled in the lush greenery that surrounded us and our Spanish school in the mountains, were wrapped into the warmth and kindness of our homestay mamás, went to zumba class with Daniel and the local mamis – and then went again – and again, and tried zillions of new fruits and tastes at the local university botanical gardens (including the miracle fruit which makes sour things taste sweet!). We learned how to ball with Emily, brushed off our drawing skills with Jane, and put our cooking skills to the test in a class, making arroz con pollo and Easter specialty empanadas de chiverre. We explored love and all of its variations, had movie night and wouldn't stop talking about Black Phillip, and went swimming in frigid waterfalls (no snakes, I promise).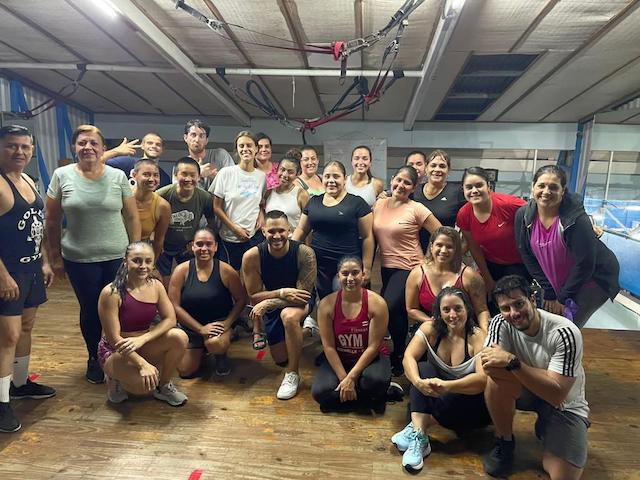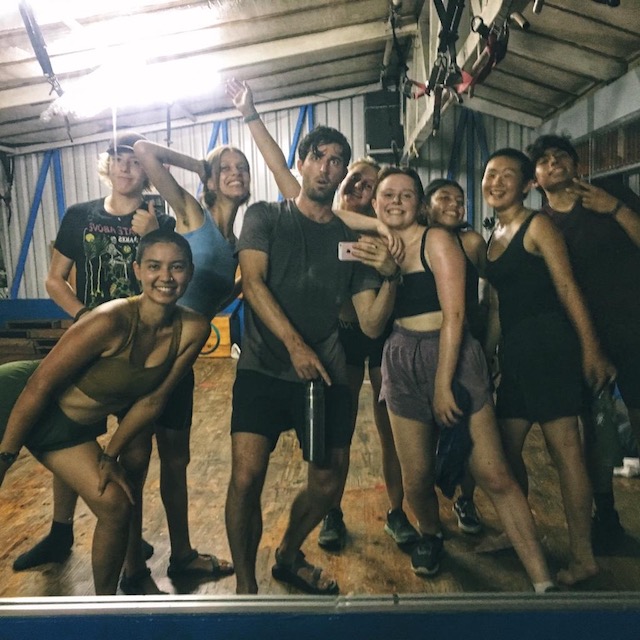 In Mastatal, we were greeted by Javier's sweet family and the endless afternoon rain. We sat meditatively watching it fall on a lazy afternoon, cleaned trails at the national park, learned how to make compost – lasagna-style, built medicinal plant beds, and let loose with a fun and funky dance class with Caroline. We fell asleep learning about the banana industry (TL;DR: one banana bad, variety of bananas good), explored climate change issues in Guatemala and Costa Rica and drew our visions for the future, celebrated not one, but two birthdays! We watched Meryl Streep and Anne Hathaway slay on a tiny screen and made our own chocolate truffles at a bean-to-bar chocolate maker. We swam in rivers and waterfalls almost every day, prayed to the skin salve gods, learned how to coal burn spoons from Elliot, and gave hammocks a different purpose. We learned from Saúl how to sign our likes and dislikes (ASL is so cool y'all) and threw our hands up in the air in amazement.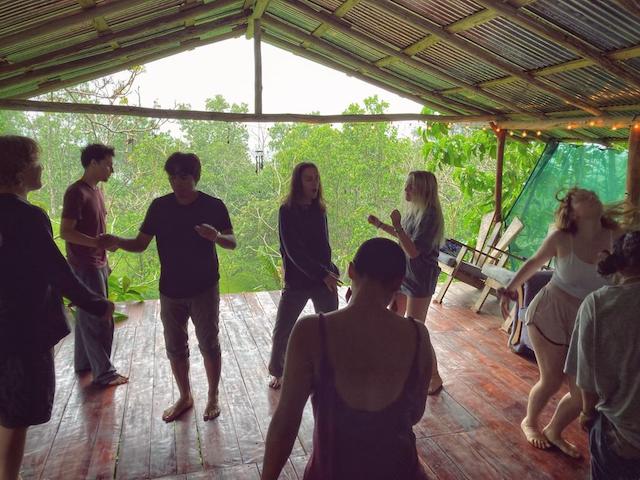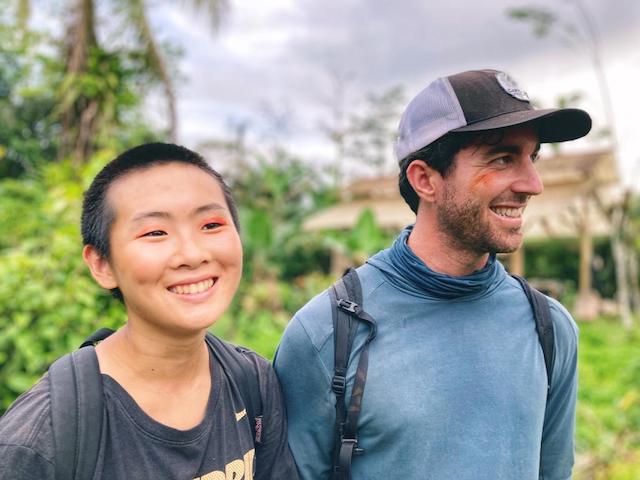 We moved onto our final activity destination – Drake Bay! We greeted the Pacific Ocean for the first time at Sierpe and took a tumultuous boat ride to the bay where we arrived in a torrential downpour and sang our way up the hill. We dove headfirst into our scuba diving course, practiced our skills in the pool, and went out for our first dive day, clutching the boat sides for dear life. We breathed underwater as we marveled at sea turtles, sharks, octopus, stingrays, starfish, sea horses, eels, endless schools of fish, and lots of coral life (and took breaks to eat the world's best piña and watermelon). We got sunburned and learned our lesson, watched the sky change from orange pink purple as we swam in the ocean at sunset, discussed the Madonna-Whore complex as Erin led us in dissecting "Black Swan", reflected on the impact of tourism on the Osa Peninsula, and practiced throwing jabs as Hunter taught us muay thai on the beach. Finally, we gaped as we hiked through the wonders of Corcovado National Park, bursting with wildlife. We tripped across coatis eating orange-purple crabs and experienced four different monkeys: hearing the howl of the howler monkey, being peed on by the adorable squirrel monkey, following the amazing flight of the spider monkey through the treetops, and laughing at the white-faced capuchin. We saw tapir mama and baby snoozing in the mud, sloth mama and baby snoozing in a tree, a boa constrictor in repose, a basilisk lizard basking in the sun, a crocodile which looked like a log at first, a black iguana on the sand, wild pigs eating beans (FYI the pigs smell like onions), and met a tree giant which ate another tree (the matapalo).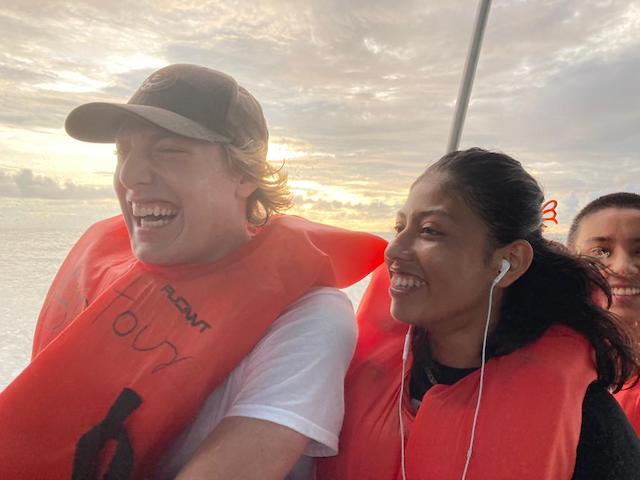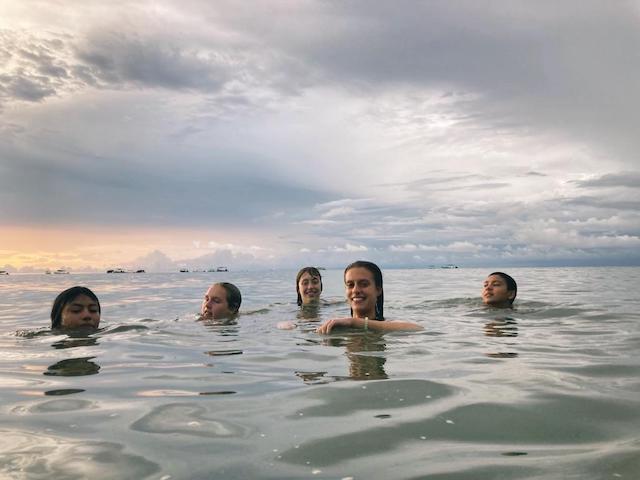 Finally, we said goodbye to the natural wonders of the Peninsula and returned to the Central Valley, arriving in Grecia to close our semester out before flying home. We balled out at a Japanese restaurant where we sat on the floor (and eventually, rolled around in laughter) and were awed at the exorbitant amount of food Elliot stuffed in his mouth. We enjoyed a memorable morning of games and fun before having a closing ceremony mostly led by our final student leaders, Emily and Emma. After evenings of Pitch Perfect and a dance party (shoutout to No Scrubs) to lead us into the final early morning of our airport departure, we finally reached the conclusion of this wild ride of a semester.
Everyone came to this program for different reasons. Some wanted to push themselves, some sought knowledge, some reached for self-understanding, some just needed something new. Over these last three months, we have seen our group pushed to the limits – and then stretch some more, learn to love themselves and each other, ask for what they need, speak with strangers and explore new places and ideas, learn how to hear hard things, appreciate things taken for granted, and question everything that they knew. It was our hope to build a community that would comfort and push to the edge simultaneously, that would offer each person acceptance and a hand when they needed it, that would provide companionship on shared journeys and support on those more individual challenges, that would invite each person to be awake to the changes they could experience, and that would ultimately send each person off anew — closing the chapter on a grand adventure, but returning home with eyes wide open.
As we close, we think of a poem by Mary Oliver:
"Meanwhile the wild geese, high in the clean blue air,
are heading home again.
Whoever you are, no matter how lonely,
the world offers itself to your imagination,
calls to you like the wild geese, harsh and exciting –
over and over announcing your place
in the family of things."
-Mary Oliver, "Wild Geese"
Wherever you are, we hope you remember the family of things we created together. It will travel with you wherever you go.
With love,
Soumya the Spontaneous & Ryan the Radical
(aka The French Fry OEs)