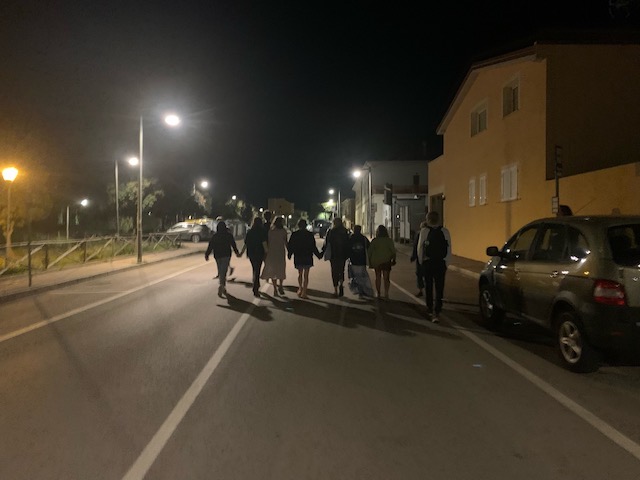 Written By Riley
START
It is raining outside. The campfire is smoldering. Two of us help our Irish contact, Colm prepare breakfast in the outdoor kitchen. The rest of us sit on the outside tables, in the yurt, or huddled around the campfire, waving off the smoke. We eat delicious chestnut pancakes (made with Paladini's own supply of chestnut flour), scrambled eggs (not without lack of eggshells), and Colm's delicious Irish porridge. A small canteen of coffee is boiling on the stove. Rocco, the clumsy puppy too big for its own good circles around the campfire, his wagging tail knocking you in the face. After we finish breakfast, a third of us will help out with the first ongoing construction project: building a pen for the two small donkeys that are also amazing escape artists. If you want to help out with building the donkey's pen, go to paragraph 1a. A third will help out with the animals and gardening work that needs to be done. Do you like herding sheep? Go to paragraph 2a. A third does another construction project of tiling the kitchen floor. If you want to try it out, go to paragraph 3a.
1a. To build the donkey's pen, you first need to gather sticks for the walls. You take a nice walk down the mountain and gather long, sturdy sticks from the forest for your construction. The only problem is that now you need to bring all those sticks back up the mountain to the donkey pen. Tying the entire bundle together, you trek up the steep and rocky mountain path. It is no longer a nice walk. When you finally get the bundle up, you are given a drill, a hammer, some nails, two shovels and told to build one of the walls. Easy enough. You position the sticks and try to hammer in the nails. It doesn't work and the nail bends. You try the drill. No matter how hard you try, the nail will not go through to the original board. You stand there in donkey shit, aware of your failure. You are the Bozo Brigade, dubbed thee by Miss Charlene. To keep trying, go to paragraph 1b. To give up, go to paragraph 2b.
2a. First things first the sheep need to be let out. Since 6:00 this morning they've been baaaaa-ing next to the yurt and although they're so damn cute, they can be quite annoying. You hold the orange plastic bucket full of dried feed while Colm opens the gate, at once letting them rush out. Eleven sheep of various sizes stumble forward, somehow confused on which path to take even though they do this everyday twice a day. But they run. And it's your job to get them to where they need to be. To the sound of Colm's "andiamo! Andiamo!" you race up the steep rocky mountainside, trying desperately not to get trampled by the flock as they frolick through the fields and finally, safely into the neighbor's grazing area where you close the gate behind them. You have a big smile on your face. To continue, jump to paragraph 1c.
3a. Tiling the floor is no easy task. First, you need to dig out a few inches from the hard packed dirt in order to lay the stones down. Then you need someone to gather the stones. Luckily, one of your group members (thanks Jack!) volunteers to haul the wheelbarrow up and down the mountain to collect them. When you start to try to lay them, the two students assigned to lunch that day take over the kitchen and you have to move out. To continue, go to paragraph 1c.
1b. You grab a claw hammer to try to pull out the horribly bent nails. You steady yourself, you try again. It does not work. You enlist OE Adam to try. It does not work. Finally, you give up but you feel less like a stupid idiot. Go to paragraph 1c.
2b. You take a break and sit around a nice warm campfire while waiting for lunch. It is concluded that the wood we were trying to nail into was too hard for the nails given. You made the right choice, although you're wondering how you're going to get donkey shit off your last clean pair of pants. Read paragraph 1c.
1c. Lunch today is a delicious vegetable curry with rice. After lunch, you nap in the yurt alongside the five people in the beds and the two people crashing on the floor. Go to paragraph 1D.
1D. At 4:00, there's a music workshop by Ritchie where we have to make up our own lyrics to Weezer's "Island in the Sun." Your group comes up with a silly version called, let's say, "Chafing in Paladini." If you perform this song at the talent show, go to paragraph 1E. If you decide to perform something else, go to 2e.
1E. The talent show is incredible. William absolutely annihilates Colm and Ethan in a Rubik's Cube trick. Other people go up to perform their songs. Suddenly it's your turn. You go up and absolutely kill it. Colm and Richie are laughing. The crowd goes wild. After the talent show's over, Colm goes and brings out his locally made wine for a wine tasting. It's the last night in Paladini after all. If you want to try the wine, go to paragraph 1f. If you want to opt out, skip to paragraph 1g.
2e. The talent show is incredible. You've decided to join those living in the yurt in their rendition of "I Think We Are Going To Be Friends" with the guitar accompaniment of Levi. The group absolutely kills it. Everyone sheds a tear. After the talent show's over, Colm goes and brings out his locally made wine for a wine tasting. It's the last night in Paladini after all. If you want to try the wine, go to paragraph 1f. If you want to opt out, skip to paragraph 1g.
1f. The wine is sweet and red but tastes a lot like Manoshevitz. You have a glass while waiting for dinner and it gives you a bit of a headache. If you helped out with the sheep earlier in the morning, you better rally right now because the sheep need to get back in there pen. If you're a sheep-person, go to paragraph 2f.
2f. After a good trek back up the mountain, the sheep safely inside the neighbor's fence greet you with a customary baaaaa. You let them out with the feed bucket, shouting "andiamo! Andiamo!" All the way down. The sunset from up there is breathtaking. All the sheep follow you obediently down the mountain. You are their leader. Combined with the adrenaline and the small cup of local mountain wine, you feel absolutely drunk on power. You're a person of the sheep. Traipse to 1g.
1g. Dinner is burgers over the campfire. Valerio cooks them to perfection and they are widely agreed upon as possibly the best burgers ever. You go to bed in the yurt or a tent feeling sleepy and satisfied. To come with us with student directed travel in the sleepy beach town of San Vincenzo, go to paragraph 1z. To stay behind, stay with Kat. Simply don't get off the train at S. Vincenzo train station. But don't worry, we have a feeling you'll end up at a gelato shop nearby soon.
1z. With views of the sea peeking through on the train ride there, the anticipation over spending the next 3.5 days in San Vincenzo is palpable. The group spends that afternoon and the first day entirely at the beach. It's gorgeous and sunny and although the water is cold, you take a dip in and learn you're swimming in the Ligurian Sea. You get a little burnt but mostly tan. The next day there's the option to go paddle boarding or go to the dog beach. If you decide to go paddleboarding, go to 1y. If you want to stay at the dog beach, go to 1x.
1y. Paddle boarding is absolutely gorgeous. The day is sunny and bright and Adam and Rachael come and supervise paddle boarding. You ended up paddle boarding in a beautiful bay called ——— where the water is warm and blue. You catch the bus ride back without problem and return home. A day well spent. Continue to 1w.
1x. You take a nice leisurely walk to the dog beach and there are approximately 2 dogs there. No matter. You found a shack on the side of the road where you have the best veggie burger of your life. You walk to the bus station and wait for 30 minutes for the next bus back. When it comes, it slows at the stop where you're waiting and as you begin to walk toward it, takes off again. Home is 3 miles away and the next bus leaves in 5 hours. You walk the trek home and return exhausted but all in all in good spirits. Continue to 1w.
1w. Today is the last full non-travel day you will have with these special 13 other people you have spent the last 10 weeks of your life with. Jack and Nick have the ingenious idea of going to Tuscany's largest amusement park (which is frankly not saying much). You get there and it's incredible. Everyone jumps from ride to ride and we try everything, from the extra-spinny cars to the horsey ride made exclusively for small children to the upside-down death-defying 70km per-hour rollercoaster. We get gourmet "hod dogs" for lunch and Adam almost barfs after a spinny ride. Getting back to the AirBnB, we all take a quick nap before Sam's birthday dinner at a nice restaurant on the water (sorry budget!). We laugh and reminisce and do two too many gratitudes but that's alright. We all walk a good mile to the only gelato place open before returning to pack, fill out the final Carpe Diem survey, and finally, sleep.
What an amazing way to end this 10-week semester program. No words can capture how transformative this time has been. I will miss every one of you so deeply and am already looking forward to whatever future reunion awaits us. Adam and Rachael, thank you immensely for all of your guidance and direction and love for us on this trip. We seriously could not have asked for any better OEs. I'll miss this time in my life dearly.