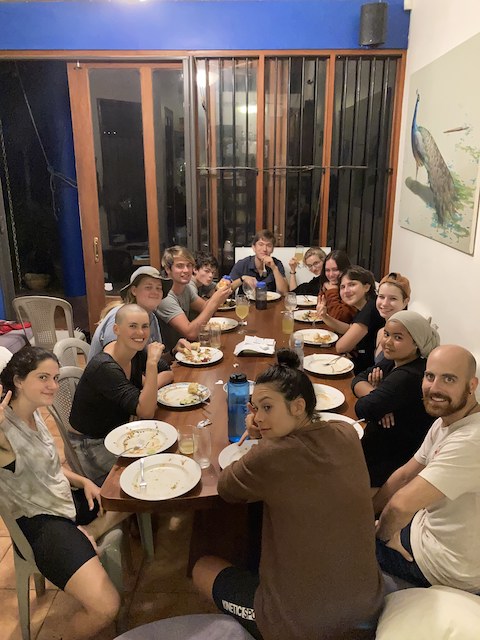 Written By Rachael & Adam
Hola! This is Rachael & Adam your OE's checking in one last time. What a trip it has been! We have been honored to guide this group through these last two months. We formed a thoughtful, joyful, & capable community together and we are so thankful for each one of our students.
We embarked on this journey at the end of what has been a strange and rough year for most of us. We met in the jungle of Chilamate for a mask-clad two weeks of name games, nature hikes, river afternoons, and some pretty heartfelt discussions. Highlights: lazy river floats, becoming way too fascinated with ant culture and community, Audrey & Cece's relay race. We gleefully unmasked and hugged each other when we received our negative covid results and became a pod for the rest of the trip.
Our next stop was Turrialba for two weeks of Spanish school. With the instruction of some wonderful local teachers we became a group of conversational Spanish speakers. Highlights: a glorious crossdressing Purim celebration complete with Hamentoshen orchestrated by Alma, a group talent show that truly showcased our weirdest abilities, and a refreshing hike to a stunning waterfall.
We sadly left our teachers and hostel home and moved on to the next adventure: Rancho Mastatal. We fell in love with this community where we learned to ferment foods, make soap, harvest and build with bamboo, and make earthen walls with mud, sand, and hay. We survived many a terrifying insect encounter, got our butts kicked in ultimate frisbee, got nice and dirty, gorged on homemade chocolate, and bonded with the apprentices learning about permaculture and sustainable living. Many eyes were open to different ways to exist in this world. Highlights: group capture the flag, tasting all the strange and wonderful fruits, Demi Lovato coming back to life (due to errors in Spanish comprehension we thought she died for several days).
We left Mastatal bright and early and headed to the coast! Specifically Cirenas community on the Nicoya Peninsula. We were overjoyed to be greeted by the warm Pacific ocean and gleefully threw ourselves into her; the perfect medicine after a long car ride. This foreshadowed a week of stunning, beach sunsets. We worked on permaculture projects in the morning; making compost, planting trees, etc, played in the ocean in the afternoon, and participated in turtle patrol at night! Our first night we saw a large Olive Ridley turtle who laid 110 eggs. Highlights: An amazing dance class, sand castle building contest, and a truly one of a kind lip synching contest.
From Cirenas we embarked on what turned out to be a hectic and chaotic travel day which our crew of expert travelers met head on with good attitudes and better dance moves. We eventually arrived in Orosi, from where we are writing this blog, to close out the semester.
This has been a special two months and we feel truly honored to have created this lovely bubble with these smart, thoughtful, and dynamic people. In a scary and uncertain time these students have made me feel faith in younger people to meet the world's challenges and figure out what needs to be done. So thank you for letting us guide your children/ friends/siblings! They are wonderful people and we look forward to seeing what they do in the future! We wish our students nothing but the best as they move forward with college, with traveling, with wherever their path takes them. We encourage everyone to remember the times spent with friends, the times they surprised themselves, the hard times and the amazing ones. We end this semester with a reminder to our students: to continue to step out of their comfort zones and continue to question themselves and their surroundings with a critical eye and open heart.
Hasta pronto!