Written By Amanda & Calvin
Gather 'round, gather your young and old and prepare your ears to listen to Carpe Aloha's spinsters of tales, Amanda and Calvin!
Not too long ago, on Wednesday the 10th of November, the children trekked through highways and side roads to the magical lands of Auntie He ("hay"). There, they crouched low to the fragrant soil and ridded the ground of its petulant invaders. That is to say, they weeded a lot. Over yonder, a wheelbarrow was mightily wielded as the students gently lay a soft bed of fresh soil around young Ti trees. Auntie shared many stories with the curious travelers as they toiled away. They received a moment of respite as they gathered for a midday meal, though several mouthfuls of food were lost as jaws dropped at the sight of a pod of majestic dolphins in the bay bordering Auntie's land. That evening, a group of Miloli'i residents that the students had gotten to know and work with during their time joined them for a large feast – a ho'ike – which opened with an oli from both groups. The event brought together a delicious myriad of culinary delights including chili, pesto pizza, a Philippine dish of sticky rice and red beans wrapped in banana leaf, and tacos. Desserts were lovingly devoured — the chocolate macaroons seemed to disappear particularly quickly and a devilish smile soon donned Loden's face (as well as a smudge of chocolate, but they didn't mention it). After all had finished eating, the students each took a moment to say their thanks to the community members present and to the village as a whole, sharing what knowledge they would be packing away with them to share later on. The friends in attendance shared their own pieces of inspiration and wisdom with the youngins. With full bellies and hearts, the people of Miloli'i fell into a deep and restful sleep.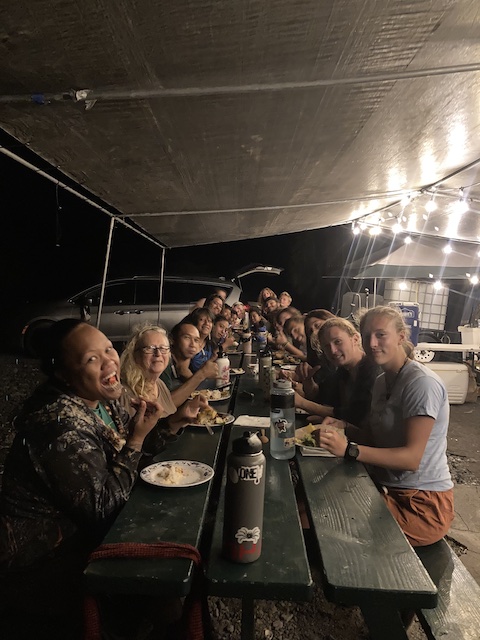 The next morning, tents collapsed and bags were packed as the group departed the peaceful village and headed to their next destination: Kona Beach Hostel. Of course, that trip wouldn't have been successful without a not-very-quick coffee stop at the South Kona Fruit Stand. Upon arrival, the students familiarized themselves with what would be their home for the next six days and then quickly scampered into town to forage for scraps of food. What excited them more than even the delicious and over-priced food of Kona, was the promise of clean clothes that met them soon after their lunchtime excursion. The rest of the day passed without incident as backpacks were unpacked and hot showers were taken — in private. In real beds with clean bodies, clothes, and sheets, the travelers slept deeply once more.
After a night of rejuvenating sleep the students found a pot of hot coffee waiting for them in the kitchen of the hostel. Many were very excited to have an unlimited supply of the gods' nectar. Come ten o'clock, the lati'dudes' (Amanda, Calvin, and Gus) gathered for an enlightening virtual exchange with the one and only Douggie Z. With the promise of a breathtaking and refreshing cenote, the group departed for the Queen's Bath. After searching for what felt like a lifetime, and was in reality just over an hour, the students arrived at the underwhelming but still quite beautiful pool of chilly water. Whilst enjoying their time at the Queen's Bath, Sir Nathan found a cave system that then became the focus of the excursion. Feeling tired and irritable, the group promptly returned to their humble abode in preparation for the next days lesson. The arduous process of preparation came in a form terrifying to a number of students — art. Tasked by none other than Sir Swanson, they had no choice but to put their very hearts and souls onto paper, creating a visual representation of what motivated and inspired them, as well as their core beliefs and values. The goal was to create something that one could be proud of. Now be patient my dear reader, you will soon know the purpose of this exercise.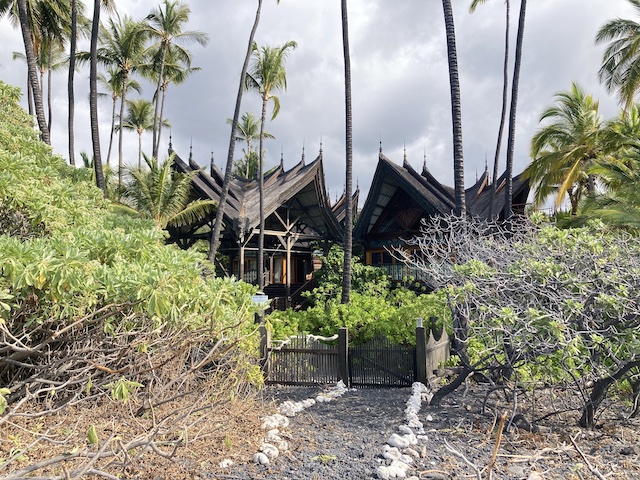 Early the next morning the students arose at the early hour of seven o'clock. This was for no other reason than to surf the wondrous waves of Kona Bay. The students shredded the gnar for two great hours before they were too tired to continue. Upon arrival to the hostel many disappeared to take a well deserved nap while others played cards and talked story. Come four o'clock the students were gathered for a very important Carpe Diem Lesson led by none other than Sir Nathan. Allowing a moment to ruminate on their artwork and make any last-minute adjustments, students were then asked to share within small groups. Having become quite attached to their work, they started in surprise when Nathan asked them to tear the paper apart. However, this was not without reason. Notecards in hand, Nathan read out a date or time period in the timeline important in the Kingdom of Hawaii's forceful, unlawful overthrow and colonization. For each event, the students were asked to rip a piece off of their drawings. This was intended to link the events being learned about with a smaller representation of what the indigenous Hawaiians felt as their culture and customs were disrespected and abused by colonizing forces. After the lesson concluded, the two kind chefs prepared an incredibly nutritious and delicious meal of pizza and ramen.
Apparently one day of surfing was not satisfactory for the eager students because once more they arose at seven to shred some gnar. This was a new day and a new set of waves but the students were prepared for the new conditions. They were smacking the lip and dropping in left and right. One might even say that they got pitted. Like so pitted. WOPAH! Once they returned from rippin' the waves, some young ones chose to truly immerse themselves in the spirit of the ocean and with raw determination, memorized the lyrics to a salty shanty. They did so as they played games with some comically large cards (8.5"x11" to be exact). While some relaxed, Kathy, Nicco, Calvin, Vanessa, and Aleia cooked up some bangin' fried rice with pineapple. It was so delectable that not a singular grain of rice remained for the kitchen elves to find.
Come morn', a small group of Cool KidsTM – including Belle, Calvin, Amanda, Ty, Cooper, and Gus – ventured back to the sea for not the first, not the second, but the third time to rip the surf. While the day started calm, the waves slowly picked up and rowdily stole the booties straight from Gus' feet! Shoeless and afraid, Gus managed to persevere with the support of his dear friends. At the same time at a beach not very far away, the remaining Slightly-Less-But-Still-Moderately-Cool-KidsTM spent their time relaxing on beautiful sands, basking in the glow of the sun. After their long day of surfing, Gus, Ty, Calvin, and Cooper ordered some pizza and chowed down.
As for the rest of this week, you'll have to tune back in next week.
Thanks for reading up on the Tales of Carpe Aloha!