Written By Vanessa & Belle
Aloha from Vanessa and Belle
Last time we blogged we had just finished out a day of tree planting the local farmstay. For our final day on Maui, we worked on Uncles George's farm. We had the opportunity to work with some animals, including horses, goats, sheep, cows, chickens, and pigs. Belle even got the chance to tangle a small pig that had escaped its pen. It was quite the sight! After our work with George, we got to help make a traditional Hawaiian meal. All the ingredients came from Uncle George's farm, from the veggies to the chicken.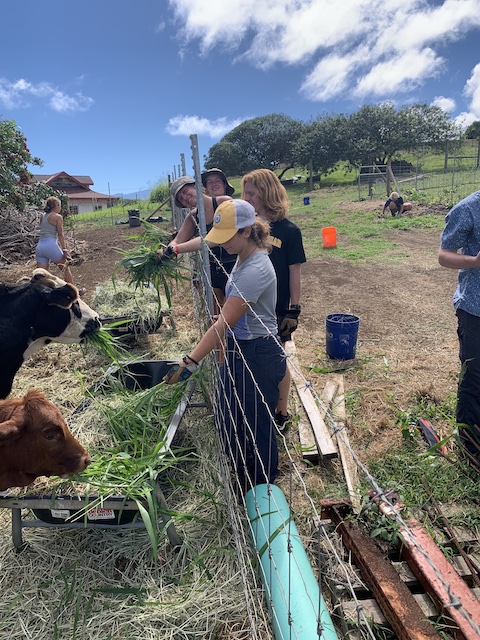 Thursday we packed up our lives and set off for the Big Island! We woke up early and said goodbye to our hosts and Maui. We packed up our vans and headed to the airport. The flight was pretty short and we arrived on the big island. We got to stay at a hostel and we finally got to sleep in beds for the first time of our entire program. Ben was very excited for the kitchen we had access to, which included a coffee maker.
On Friday we had the opportunity to explore the town nearby. There was a ty-dye shop that Calvin really liked and Amanda got some beads from a local store. Lots of us went into a cool costume store and bought some items for our Halloween costumes. There were a ton of thrift stores and Vanessa got a new book from one of them. Later that day we went to a nearby beach, where we got to swim in the ocean and play soccer on the white sand beach.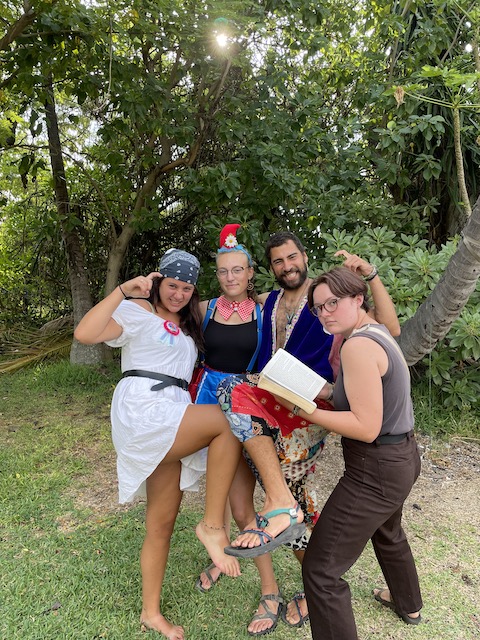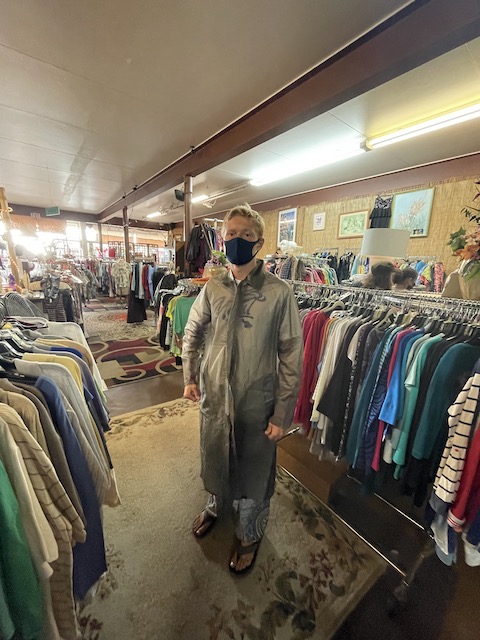 Saturday we got the chance to go sea kayaking out to the Captain Cook monument. We all buddied up in double kayaks and had a blast. The worker at the kayak rental told us his boss owned a local poke shop, where we went for lunch and devoured poke bowls, while some got BBQ from a spot next door. Ty loved his combo platter of chicken, sausage, and pork with coleslaw and beans. After lunch we went back to the hostel and Rachel led us through a Carpe Diem lesson on vulnerability. We then watched Pirates of the Caribbean and ate popcorn.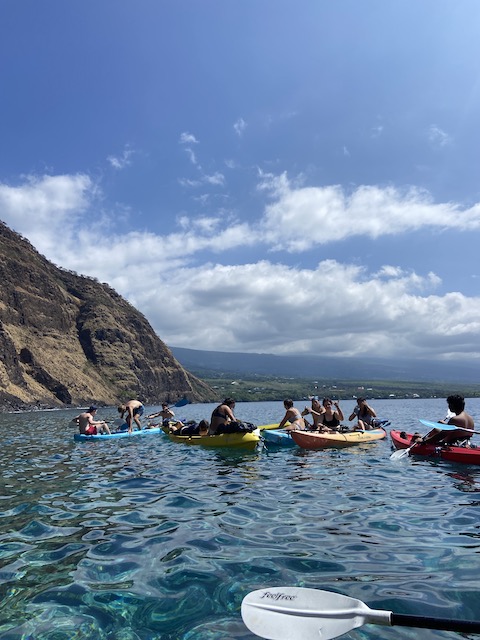 We had a super chill morning on Sunday, a bunch of us walked into town to get coffee, gelato, and acai bowls. Others hung out around the hostel reading books and relaxing. We had lunch and got ready for our Halloween surprise that our student leaders, Katie, Ben, and Amanda had planned out for us. We arrived at a park on the ocean to find they had set up Halloween decorations, pumpkin carving, cookie decorating, and a piñata. We had an awesome time all hanging out and celebrating. We packed up all our stuff and watched Hocus Pocus.
We got up early on Monday morning and headed out to Miloli'i to join the traditional fishing village community for the next 10 days. We got to work with Uncle Kiwina helping him clean up and restore a reserve that is being turned into a school yard for local children. We weeded and cleared out fallen branches. We then celebrated by drinking some kava tea that Uncle had prepared himself. We ate lunch and then met up with Uncle Bobo to snorkel. It was super pretty and we got to see some incredible fish. Later that night, Uncle Will taught us about limpets and how to braid cordage. We all got to keep a bracelet we braided.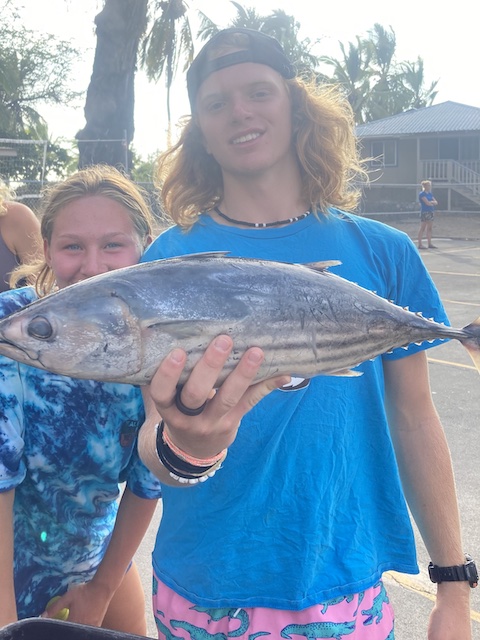 On Tuesday, we woke up and did a historical walk through the fish ponds near the village. We went to a nearby black sand beach and did some snorkeling. We had lunch and then went back to the wharf and met up with two marine biologists that talked about their studies and had us observe three fish in the water. We followed around and observed the yellow tang, the convict tang, and the golden ring. They all help maintain the coral. After dinner, we had an earth medicine talk and got the chance to make our own oil blends from traditional Hawaiian plants.
Today, we got the chance to do some laundry in the closest town, Ocean View. Once we got back to the village, we got to meet up with a few of the locals who taught us how to throw traditional fishing nets. We practiced on the basketball court and then took it to the water. We caught a few fish, which we were able to cook up for dinner. We're excited to learn more about Miloli'i's ways of life and how to fish traditionally. We'll talk to you next week!
Mahalo,
Vanessa and Belle