Written by Mallory & Anna
Terra group made their grand debut in Matera under cover of darkness. We first met our Matera liaisons Andrea and Birgit at 9 at night in a murky bus stop somewhere in Matera. They shepherded us to the farm, or Masseria, that would become our humble abode for the next seven days. We all piled into Andrea's van that would also become our home away from home. That night we collapsed into our bed.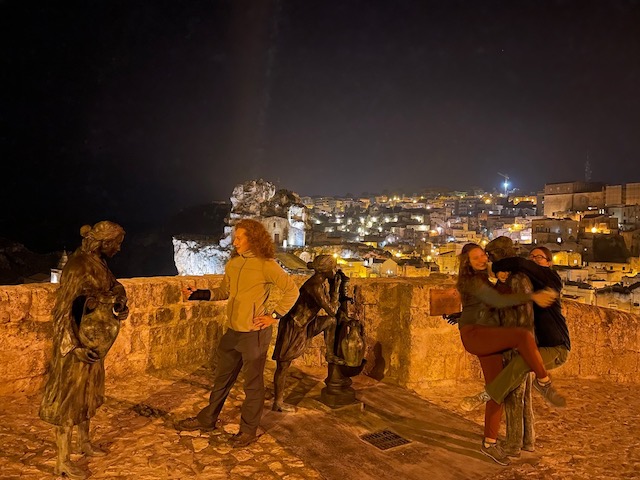 The next day we got to know Andrea and Birgit and also ran some errands, including a devious grocery store run and an obscene amount of laundry we took to a laundromat in the city. While at the Masseria we made almost all of our own meals. That first day at lunch started off strong with a delicious couscous pomegranate salad made by Emma L and Anna. Sebastian and Storm procured the pomegranates off some nearby trees. That night the volunteers from Matera made us dinner comprised of dishes from all the different countries they are from. Some highlights were Alba's Spanish potato tortilla and Birgit's tiramisu.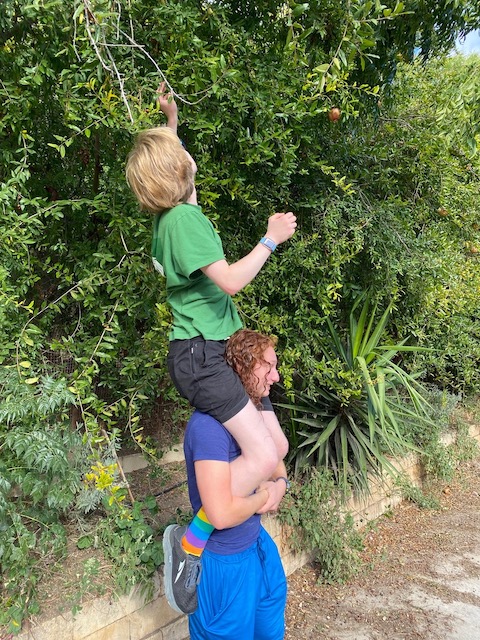 The next morning Kendall, Emma C, and Maya made us pancakes and bacon (although it could only really be considered bacon if one had a thin grasp on reality, because, it was in fact thick cut pancetta). We toured the farm, pet some baby cows and horses, and learned about the organic ethos of the Masseria. Then we got to work mending some of the nets for olive picking and mucking out the animal stalls. Our dinner team prepared a feast for taco night, meaning Anna shredded enough chicken for a small army, Emma L squeezed 25 limes into pico de Gallo, and Mallory somehow emerged from the kitchen with delicious rice pudding. We also had a shabbat with blueberry juice and challah that Sebastian prepared themself. Even the herd of feral cats living outside our room got to try some!
We woke up early the next day to start the olive harvest. At least we tried to wake up early, the entire process involved our glorious leader (for the week) Maya yelling at some people until they got out of bed. We put our whole hearts into the olive harvest. Everyone climbed trees. Emma C fell out of a tree taking a selfie (all good!). Sheldon broke several trees in pursuit of the perfect olive. Anna lost herself amidst the olives. The grocery team once again boogied on down to the IperCoop and spent an egregious amount of per diem on groceries. Storm tried to sneak kind bars through on the Carpe Diem dollar but was caught red handed. That night we hit the town of Matera.
The following day, Emma L and Anna turned out some great French toast and then we piled into assorted cars and vans for a day trip to a seaside town called Trani. We got there early to do some tree planting and trash pick up along the beach and then explore the town. Mallory had the time of her life picking pieces of sea glass off the beach. Sheldon, Lauren, and Sebastian jumped into the sea.
The next day we had some more pancakes and did a food waste workshop with Andrea and Birgit. Mallory, Storm, and Sebastian whipped up some random dishes for lunch. Inexplicably this was Sheldon's second favourite meal of the entire weeks-long trip. Then we headed out for a hike on the other side of the canyon from Matera. We learned interesting factoids like that Matera has 152 rock churches and you shouldn't try to dangle off random rocks that could potentially be important pieces of Ivan's heritage (but they did make great finger holds). That night we had "Tandem Night" (a meeting with other young people in Matera), which went off without a hitch and all of the attendees seemed to love learning about American culture. They were quick to pick up table football and phrases like "y'all" and "girl boss." As we scarfed down pizza on the side of the street, we ran into Lauren coming back from her day off and had a big group hug on the street corner.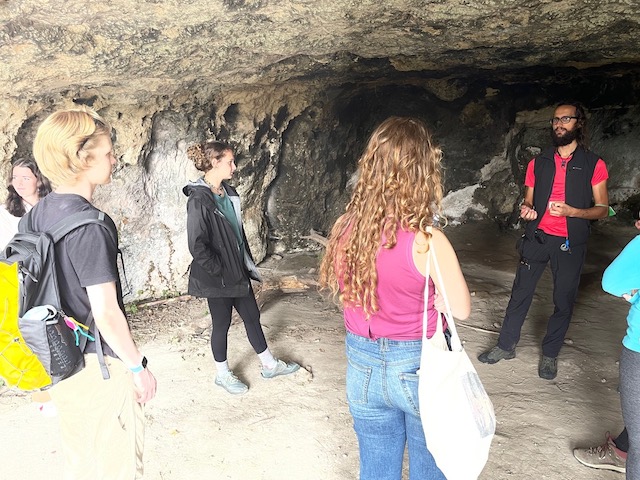 The next day included an olive oil soap making class with a spiffy Italian man named Gianni. Then we had a big mid-semester meeting, called Beginning Anew. That night was supposed to be a cultural night because a group of French students was coming to stay at the Masseria, but our plans to show them traditional American cuisine of mac and cheese and chicken nuggets was foiled when the French group's flight got delayed another day.\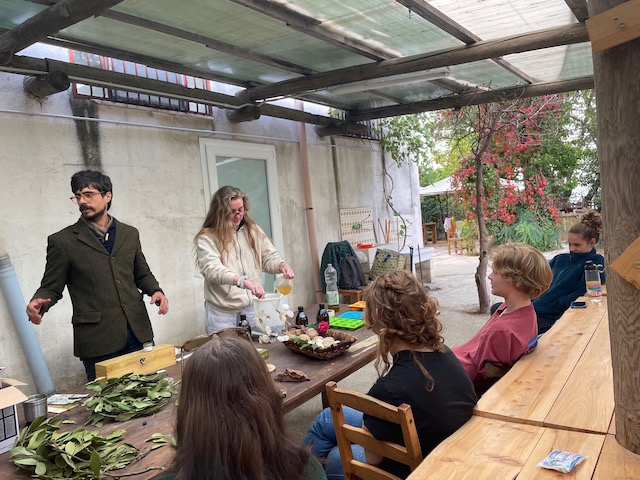 The next morning we finished off our Nutella reserves, then did a workshop with the volunteers about climate migrants. Alba, an immigration law student from Spain, had a lot of really great information to share. Andrea and a local Italian woman taught us to make pasta and we cranked out some Caviatelli and Orchettite for lunch. Some of us picked it up faster than others. Emma Larson's hands were deemed "chosen by God" and Anna and Mallory are ready to set up their own pasta operation. After lunch we moved from the Masseria into our hostel in the city, then set out to explore more of the city and wander the Sassi for the rest of the afternoon.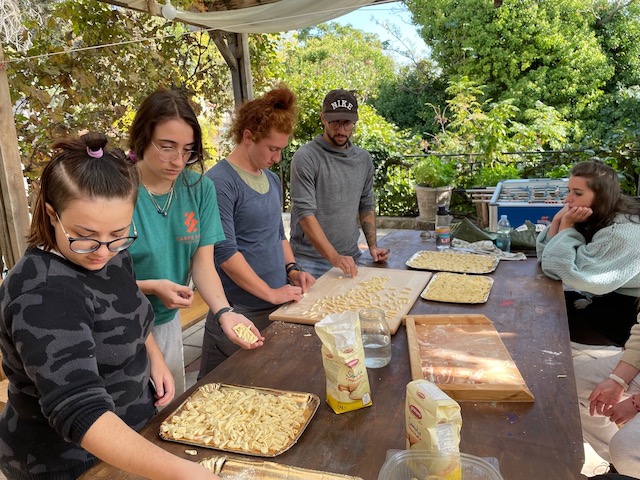 Friday morning was free, so Terra group took the opportunity to lug copious amounts of laundry across town because we had once again run out of clean clothing. In the afternoon was our long-awaited rendezvous with the French. We played some get to know you games before breaking up for a scavenger hunt around Matera. They all spoke impeccable English but some of our group members got the opportunity to practice their high school French. We split up for dinner and our group partook in everything from take-away to all-you-can-eat sushi before settling back down in the hostel next to our new hostel friend.
On Saturday we followed our local contact Andrea to a community garden above the city with a beautiful view. We put our knowledge of compost and broad forks to good use, then headed back down to Matera for a group lunch and Athens briefing. The rest of the day was left for packing, passenger locator forms, promenading through the Sassi, and preparing ourselves emotionally for the long travel day(s) ahead.
Peace love and ciao (for the very last time from Italy), Terra.