Written By Luke & Wynn
To start off this busy week, we worked with the amazing interns at the local farm to prepare gardening beds for future planting. We weeded, aerated, and flattened the beds using hula hoes, pitchforks, and rakes. After prepping most of the beds, we split into groups of two to plant a wide variety of crops including carrots, lettuce, fennel, tomatoes, and beans. When our day's worth of work was complete, Emily and Luke competed in a riveting game of ping pong. In the evening, we watched the movie "Kiss The Ground," which discussed not only the many problems the world is facing with climate change and global warming, but also all the solutions that are right under our fingertips.
The next morning, permaculture and agroforestry design specialist Jenny Pell led the group in an active discussion about the importance of permaculture and agroforestry. We learned that the principles of each can be applied to almost every part of our lives, as well as our future careers. Splitting into three teams, we implemented our learning and designed community spaces and universities that utilized aspects of permaculture. A gorgeous double rainbow arched over the crops in the late afternoon, and the night was concluded with scares and laughter as we played Night at the Museum.
April! Friday was harvest day at the farm! We spent the morning harvesting a wide variety of vegetables, herbs, and other plants. Gigi easily climbed up an avocado tree to gather the avocados while Mikayla, Wynn, and Delia had an awesome time pulling taro roots out of the ground. Others in the group helped wash carrots and turmeric, strip kale and leeks, and weigh bags of beans and peas. The produce gets taken to local markets and is sold to the local community, as well as directly to 30 families. To celebrate a hard day's work, Max helped Evan set up a slip-n-slide that we ungracefully slid down over and over again. Omer had a particularly fabulous time trying out all the different ways to go down. Slip and fall count… well into the double digits. Warm showers and Delia's bomb Spanish rice helped us transition to another salsa night with Dr. Nat. Our skills have improved significantly, to say the least, and everyone tore up the dance floor as usual. We furthered our Latin moves by learning the dance Bachata, too.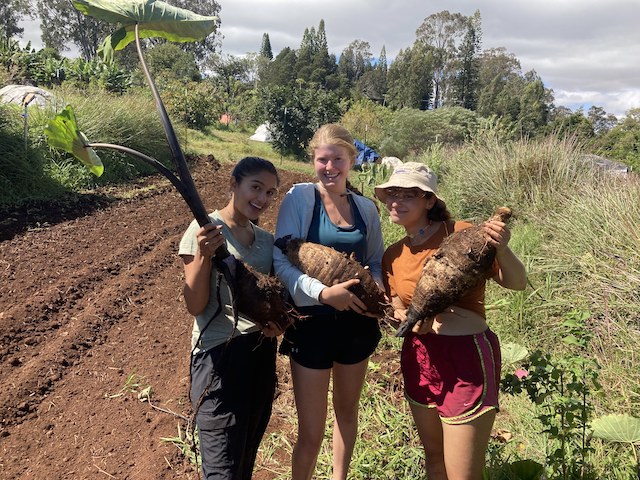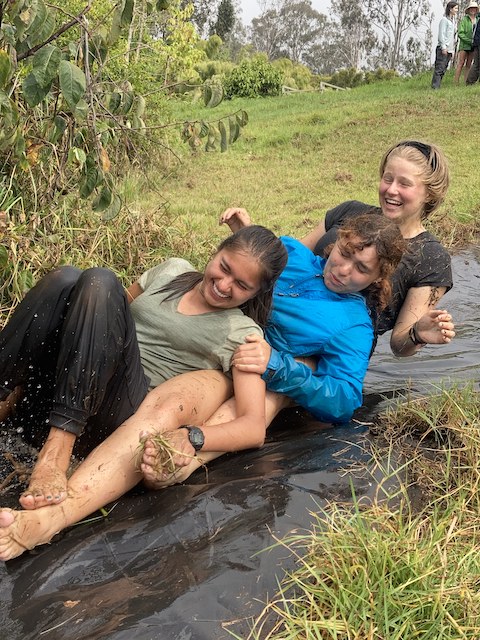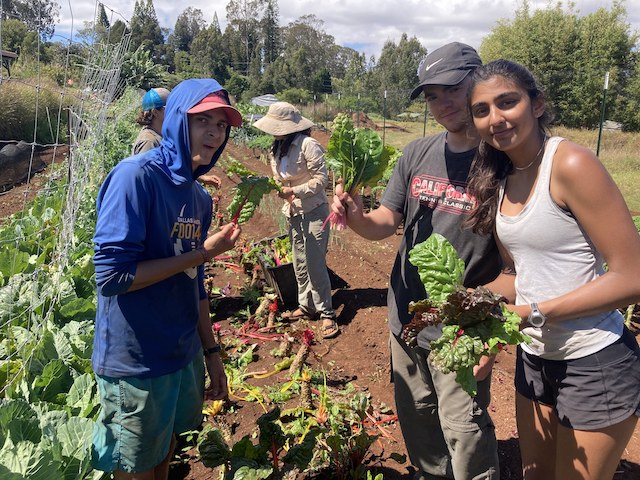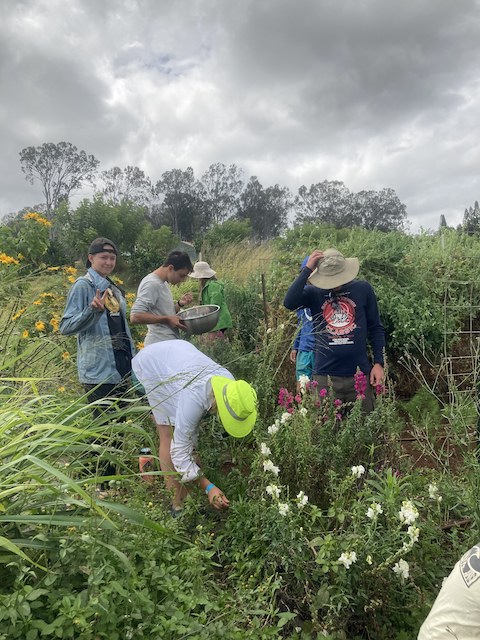 On Saturday, we woke up at 5:30 and drove to Haleakala National Park to hike the infamous 15 mile crater trail. We took the Sliding Sands Trail down to Kapalaoa Cabin, breaking for lunch. The landscapes changed dramatically throughout the hike, altering from vibrant red soils to sparse green ferns to Arizona-like flatlands — and a lot in between. Hike highlights include peering down a 65 foot hole, admiring the endemic silversword plant, awing at the sparkling volcanic rocks, and seeing our first Nene (Hawaiian goose and state bird) of the trip. Switchbacks took us up more than 1,000 feet to get us out of the crater and finish the hike. We were then treated to a fabulous dinner at a Mexican restaurant, with tacos, burritos, and enchiladas being the cherry on top of an amazing day.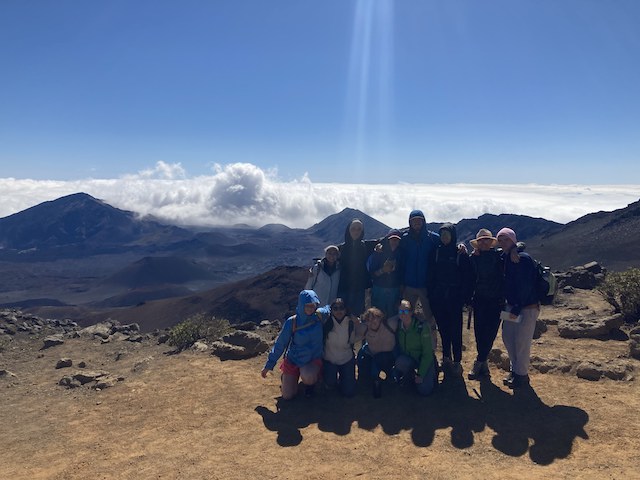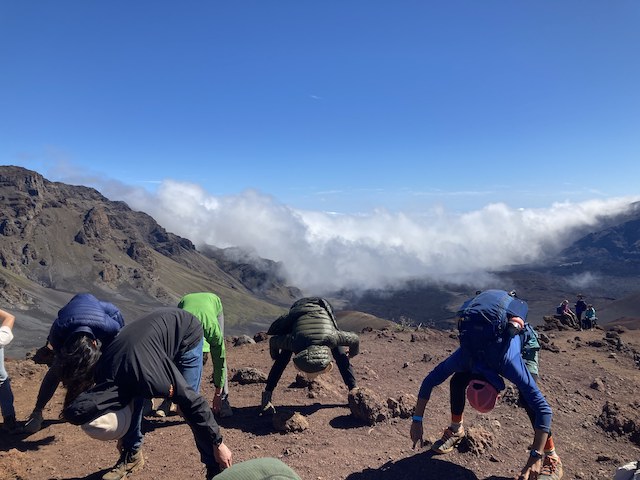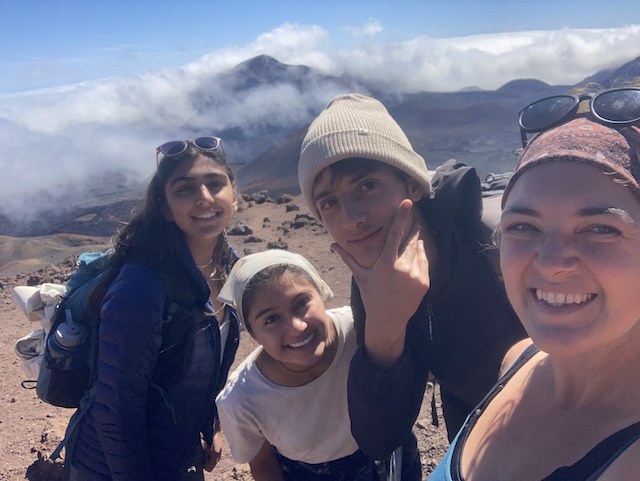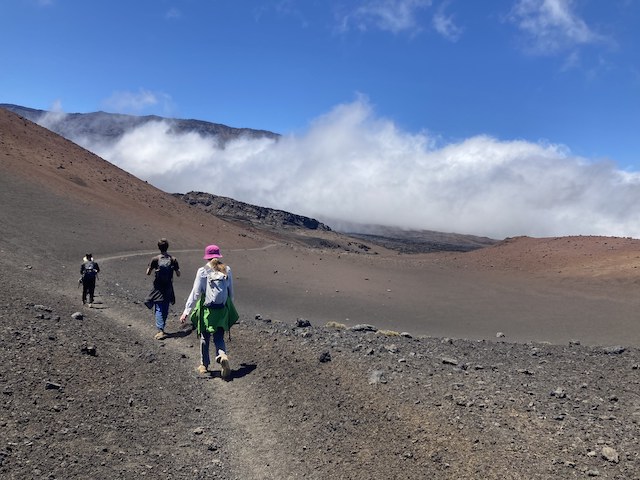 The following morning, David Leonard of the Earth Medicine Institute came to Pono to educate us on acupuncture and Chinese medicine. "Child's walks" let us explore the surrounding nature and examined individual plant leaves, bugs, and anything else that sparked our interest. David identified herbal plants that are useful for headaches, digestion, and women's health among other things. Afterwards, we got to do laundry and visit Paia once more, spoiling ourselves with Starbucks, shaved ice, and some gelato.
Monday was tree day! Evan taught the group about agroforestry and food forests, including the importance of each plant contributing to the success of the whole forest. We broke banana keiki (children) off of the larger banana clumps, and Lana and Andrew did a stellar job of planting their own banana trees. The rest of the group worked to plant avocado and orange trees, and each person wrote a hope or intention for the trees on a piece of paper and buried it in the hole to be broken down and absorbed into the 'aina (land). In the late afternoon, Jenny Pell came back and joined us for dinner to enlighten us once more, this time on permaculture intertwined in urban society and its architectural possibilities. To end the night, we decided to watch arguably the greatest movie of all time… Kung Fu Panda 2, and Mara was gracious enough to make homemade popcorn for us all.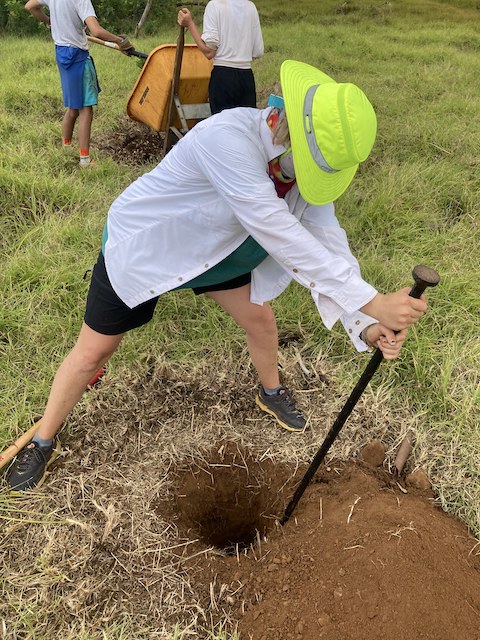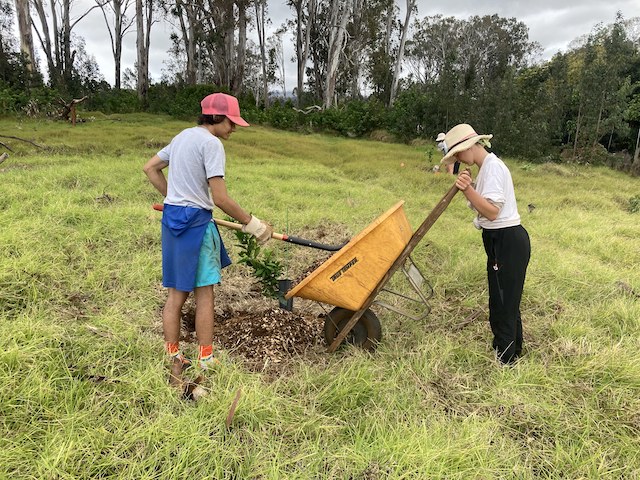 Tuesday we learned about seed saving. The morning was spent gathering pigeon peas, basil, and snap dragons (Cahill's mom's favorite). We picked them by the stems and used our hands and sifters to isolate the individual seeds. We took our newly found seeds and used clay to mold them into seed balls. We also weeded tomato beds and helped install two trellises that would foster the growth of the vines. We also celebrated Delia's birthday with the special treat of banana, mango, and pineapple breads! The Pono interns joined the group to watch the movie "Gather" in the evening, in which discussed Native American tribes' struggles in modern day society, and how maintaining each of their cultural practices surrounding food has been challenging and suppressed by colonizers.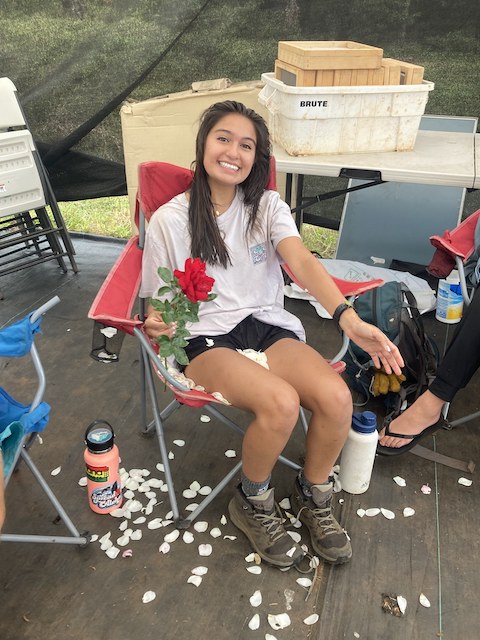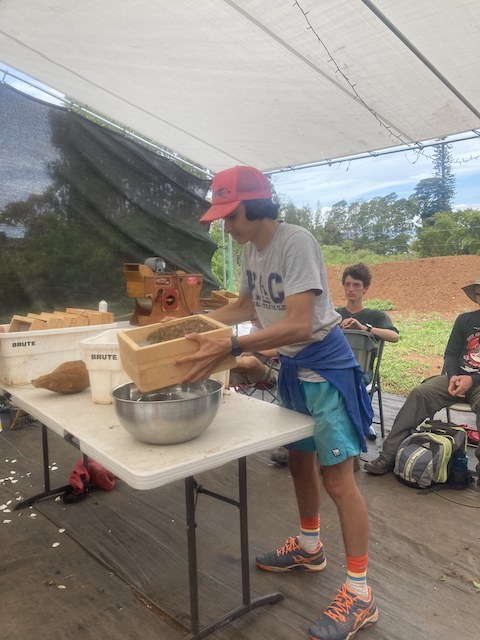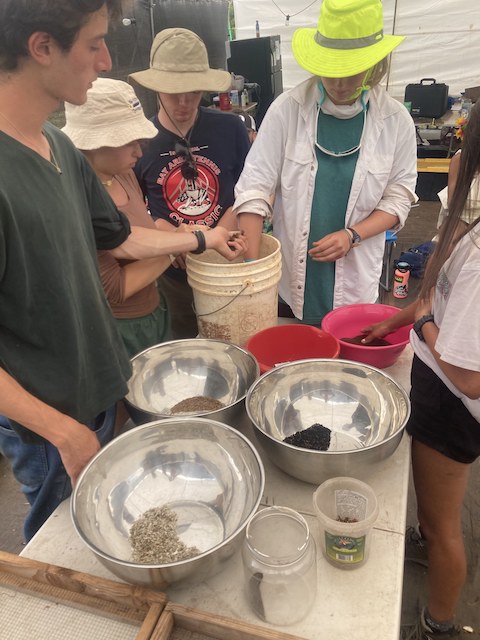 We are so grateful that this week has been educational yet filled with joy. We are optimistic for what is yet to come (Big Island soon!!).
Sending Love,
Lynn (Luke & Wynn)