Written By Riley
Ciao!
This week the group got a healthy mix of suburban, urban, and then rural living, as we moved from the suburbs of Florence, to central Florence, to our current camping spot in Garfagnana.
By last week, each member of our group had gotten the chance to step into the role of group leader and so the group devised a council system to equally split up group leader roles for the final two weeks of our journey. I, Riley, will be in charge of writing the blog posts so prepare to hear a lot from me.
After an unfortunate last-minute cancellation from our Florence hostel, the group spent the beginning of this week at the Ibis Hotel in Prato, a town on the outskirts of Florence that the group decided was unsettlingly reminiscent of Florida in its mega-mall, impressive WiFi connection, chain-hotel-decor, warm-weather-desolation kind of way.
On Easter Sunday, the group split and a few people left early to try and catch an Easter morning mass in Florence while the rest decided to have a chill day at the hotel. The group who went to the city witnessed the famous Florentine tradition of the exploding cart and Easter parade next to the Duomo and even ran into our former Via Francigena tour guide, Lucca! The group who stayed at the hotel quickly realized the futility of locating any local restaurants open on Easter and instead splurged on a hotel buffet lunch in the courtyard and lounged around for the rest of the day, reading, napping, or talking to family. When the city group got back, new group liasons, Sam and Jillian organized a takeout group dinner from a local kebab/pizza place and we ate together in the courtyard. We all piled on the bed in Cedar and Natalie's room while they hosted a "Midsommar" watch party to end the day.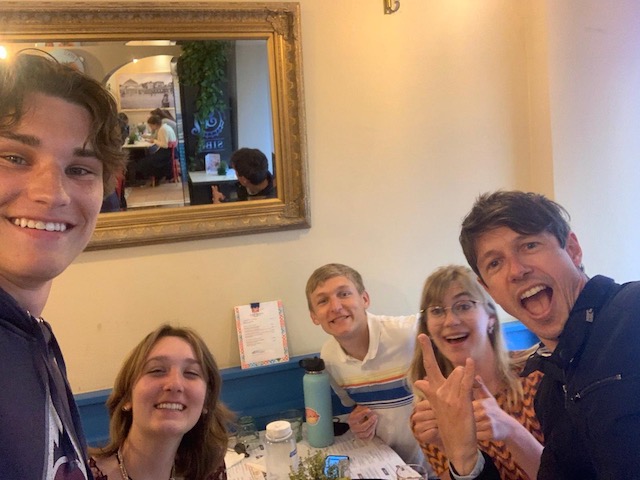 The next day was possibly the easiest travel day yet, as we finally got to move to our hostel in Florence. After a 40 minute bus ride and a slightly long walk, we arrived at Hostel Firenze 2000. Splitting off for lunch and dinner, we explored the beautiful and extremely walkable city in search of the delicious, elusive Lemon Soda. Some of us even managed to sneak into the top-secret "Sunflower Music Festival" happening in a park nearby. We can't say exactly what was inside, only that it was top-secret and also the most lively place on a Monday night in our neighbordhood-y corner of Florence.
The next morning was our first day of visiting a beautiful community garden run by an enthusiastic gardener named Giacomo. He took us on a tour of the place, recounting how it used to be an abandoned concrete track and introducing us to all kinds of new herbs such as apricot sage, pineapple mint, the eternal plant (which is said to make you live forever if you make tea out of it every morning) and lemon savory (which also holds some other ~magical properties~). Giacomo showed us how to assemble smudge sticks and we each got to make our own special blends of tea, entirely out of the herbs we gathered from the garden.
The group then went to a local restaurant to get the cultural experience of tasting the famous Florentine steak. To our surprise, another cultural experience was announced as we sat down and the waiter brought around five bottles of Chianti Classico for a wine tasting in honor of Levi's birthday the next day. Reviews on the steak were mostly positive, though the rareness of the meat was a point taken for some people who had recently finished "Tender is the Flesh".
At 4pm, we met at the famous Uffizi gallery, home of "The Birth of Venus," or, if it were up to Jillian, home of "Primavera." (The more impressive one!) There, some of us ended up running into Lucca yet again! If Xeno is the prince of Crete, Lucca is the prince of Florence.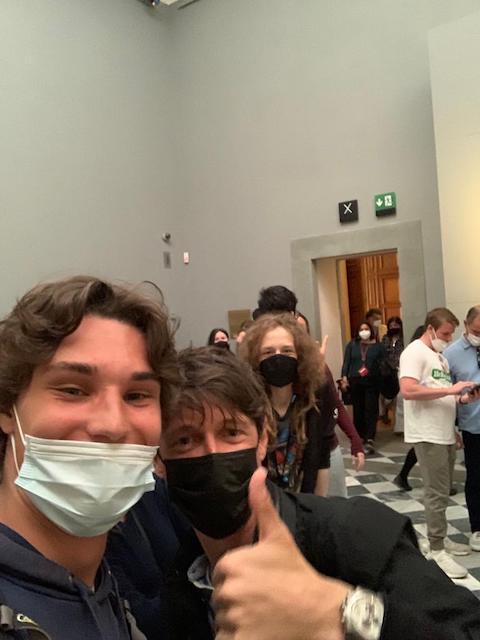 The next morning, the bus that was supposed to take us to gardening never showed up and so after a nice 40-minute walk, Giacomo got us started on putting together a herb-filled authentic Italian ricotta and making the most delicious pesto we've ever had. After gathering, chopping, and mixing the herbs, we feasted on ricotta and pesto on baguettes as a mid-morning snack. Hanging out in the garden, some members of the group pressed flowers and drew pictures while Giacomo showed us his own nature journal and undoubtedly the coolest business cards ever made out of actual leaves.
That evening, most of the group gathered at Mago's Tea House, an otherworldly tea shop Rachael had discovered the day before. There, we sampled three of the most delicious teas ever created (and deeply questioned our own tea-making abilities from the day before) while waiting for the very enthusiastic owner of Mago's to read our palms. All in all, the group spent three hours in the tea house and left feeling enlightened, slightly confused, and very hungry.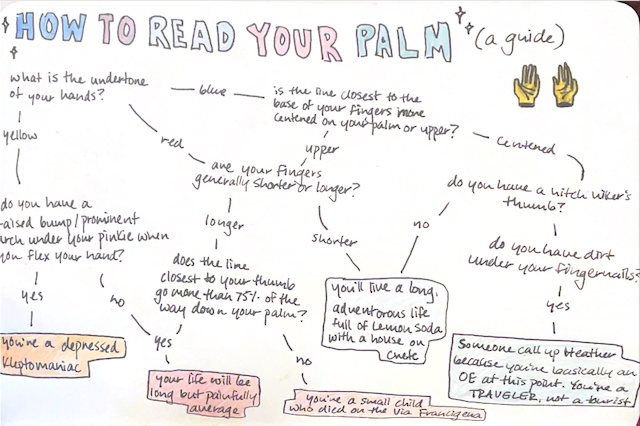 The next morning it was time to move again as we prepared for our week of camping in Garfagnana. (A word we very recently learned how to pronounce!) A bus and a train ride later, the group searched for lunch in the small town of Castelnuovo di Garfagnana, waiting for the final bus that would take us up the mountains to our campsite. While we waited, we met the self-renowned "Picasso of Starbuck". Oblivious to the large pile of packs and 12 American teenagers at the bus stop, however, our one chance at a bus drove by without slowing down just even a little bit. Like seriously, not at all. Not even slightly.
Luckily, a very nice man in a van who had witnessed the whole thing told us his friend would come and take us where we needed to go in an hour and fifteen minutes. As we waited, we debated our best chances of survival while living under a nearby bridge and exactly who and what we would eat. When we finally made it to our campsite, we were greeted by an Irishman named Colum and very friendly white dog named Rocco. Although it was windy and rainy, we enjoyed a delicious meal around our campfire and settled into our respective yurts, tents, and treehouses to settle down for the night.