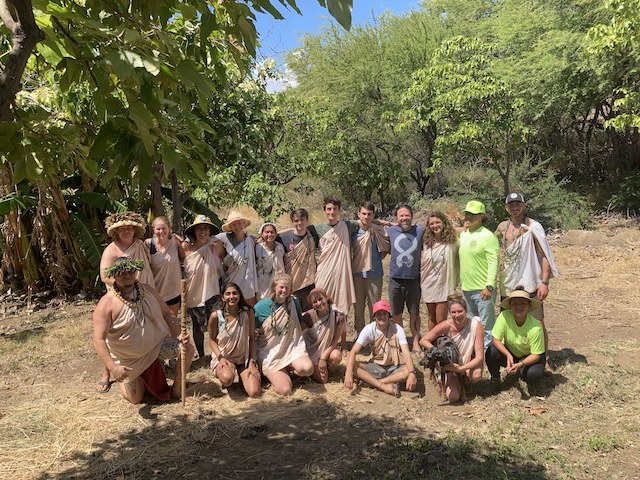 Written By Omer & Delia
This week we had some major transitions. We've had to say goodbye to people and places that have become an intrinsic part of our life: Camp Olowalu, whose sprinklers and wooden showers will be remembered; Kipuka Olowalu with all its magic; Joi the dog, whose enthusiasm will forever be unmatched; Teje, who will forever be our auntie; and most sadly, Reggie the rooster, who we'll miss the most (though we won't miss his constant blabbering).
The team at Kipuka Olowalu gave us a wonderful send off. We performed the hula we learned in our natural-dirt-dye Kihei's and got to be a part of a beautiful traditional Hawaiian blessing done by Ua. Our farming guide, hula instructor, E Ho Mai hype man, and a dear friend.
In our last few days in Olowalu and Lahaina we celebrated Cahill's birthday (with an epic seafood feast!) and had an absolute blast around town. By our second surfing lesson we were all practically pros. Jk, but anyways, the opportunity to learn and improve was totally stellar. We still got to bug Teje one last time at the aquaponics green house she also works at. We had the opportunity to transplant numerous baby plants to their forever-PVC-pipe-aquaponics home. We transferred around 600 of them! AHH!! That was neato. Baby plants aside, it was really insightful to learn and see new and different ways of sustainable farming.
Paddle boarding and canoeing were a nice change of pace from the wave'n'rollercoster that is surfing. The sea-turtles really outdid themselves this time. I mean they were just floating along being turtles, but the fact that they were so close and so many really made them shine. It was fascinating to learn how canoeing was the forefather of surfing. How the Indigenous Hawaiians caught waves on their fishing canoes, which eventually evolved to the surfing we know and love today.
Fabio, one of our friends from surfing lessons, introduced us to the martial art of Capoeira. A hallmark of Brazilian culture, which combines dance like movements with technical fighting techniques. We went to two lessons in which we spun our bodies in spirals. Numerous times! At the end of each lesson we also got to experience the unique sounds of some Brazilian instruments.
Then, in a single day, we packed up an entire kitchen and all of our tents and hammocks, loaded up the truck and put our roots in a new wonderful place, right on the beach no less! The ice cream sandwiches on the way were a delightful surprise. Upon arrival, Percilla the peacock did as peacocks do- strutted around, flared his feathers, and checked himself out in the fender of the truck. Talk about self confidence. That day we also found out what sound a peacock really makes- the terrifying sound of a cat's meow and a tiny child. But it really is a crazy and amazing thing that we are dealing with peacocks in the same manner one would deal with pesky raccoons.
We then met Kia'i, a representative of the Hawaiian Land Trust who is an endless book of cultural knowledge and a really awesome dude. After working with Kia'i for the past few days, we've pushed our limits and got very beefed up in the process. Throwing rocks, uprooting dense vegetation, and restoring old structures for new beginnings (like Kia'i's new gym).
It has been a full week with lots of hard work and long days, but of also sweet memories and funny stories to tell. We look forward to what this new week has to bring!
Biggest of hugs!
Omer and Delia
P.S. Sorry for the delay! (: The peacocks ate our homework