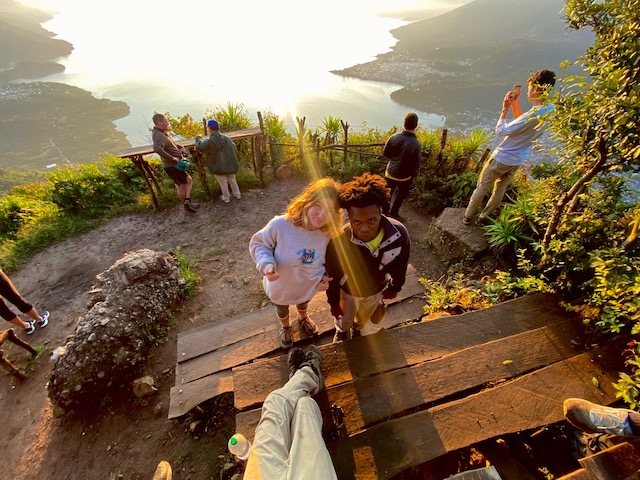 Written By Maya & Ian
Hola from Lake Atitlan! Students leaders of the week here: Maya and Ian here for your weekly update of our exciting adventures. This week's adventure began early at 4am with a trek up to a lookout spot over the beautiful Lake Atitlan to watch the sunrise. Students fell in love with the sight of the lake and were eager to trek down making our descent to the lake. The students finished their 3 days of trekking at the welcoming lake side city of Tzununa where we stayed at the Bambu guest house. At the Bambu guest house we were spoiled with freshly grown food from the nearby farms throughout the week for meals, beautiful views from our room balconies, and hot showers. The week consisted of waking up to a tasty breakfast where the students then headed up the hill to Atitlan Organics where they helped with permaculture at Duck Willow farm. The work consisted of making a pond to help improve the landscape. After work, students headed back to the Bambu for a yummy lunch. After lunch, the rest of the afternoon consisted of lectures till dinner by the one and only Shad, founder of Atitlan Organics. Students learned about permaculture principles, bitcoin, earth sciences, and cosmovision. After dinner there was usually a structured podcast we would listen to about permaculture or play some games. The students were treated to a temescal during the week as well to help us all relax.
There were numerous times throughout the week students got to walk down to the lake for a swim, also various hikes to find hidden gems like waterfalls with caves inside . One day we all took tuk tuks to the neighboring city where we got to go paddle boarding and plant tul which is a natural plant that helps filter the lake. Another excursion students got to do was take a boat across the lake to Santiago and Quixaya to explore a local market and another fascinating permaculture farm. After the tour we got to go swimming in natural pools for a refreshing afternoon. This week was filled with lots of learning, outstanding views, and hands-on work. The students are now ready to say farewell to Lake Atitlan and begin their student independent travel week which begins at El Paredon.