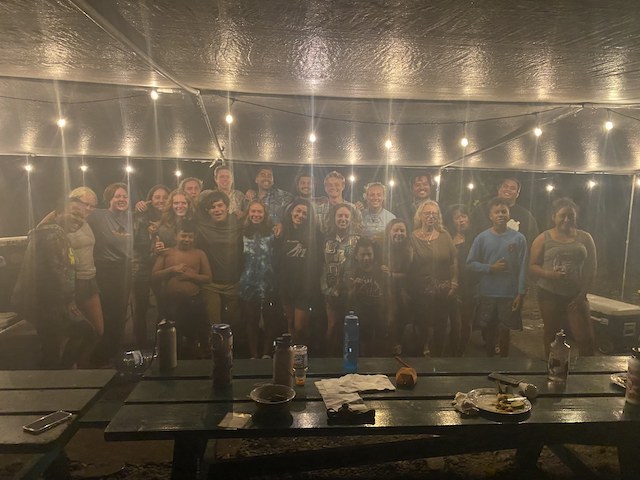 Poem by Overseas Educator Rachel Lightner
68 days later, we have arrived.
It has been quite the wild ride.
Remember the awkward small talk in the airport, trying to figure out who was a Carpe Diem kid? The ones with the massive backpacks, lost look, that one has my bid.
The quiet car ride back to Olowalu and a sleepless night,
4am wake up call from roosters and cat fights.
But the morning brought smiling, sleepy faces, a sparkling nearby sea.
The beginning of a journey we were all ready to experience and see.
From Ua's presence that could shift winds and send shivers down one's spine,
To Fabios big energy and trying out capoeira for the first time.
We surfed waves with Tim, both cosmic and in the sea,
We learned from Duane about the importance of the wili wili tree.
Our journey to Hana was filled with windy roads and Windy Hills,
Delicious grindz from Bruddah Hutz, who sure knows how to nurture it on a grill.
We worked hard at HILT and Cooper organized an epic clean up at the beach,
We had a mud fight in the Lo'i, where Gus turned into a dirt creature while Penny would teach.
Collectively, we've read Red Rising about 8 times.
Wait, whose turn is it in line?
We became a part of the family at Pono Grown, where a deep love for farming and regenerative agriculture was shown.
We hung out with an Oscar award winning artist, the multi talented Uncle George,
Where Belle amazed us all and wrangled a pig to the floor.
We arrived on the Big Island and finally, a bed! A month and a half of camping deserved a soft place to lay your head.
We got decked out in tye dye from Hobo and got our Shaka taco fix,
We threw a Halloween party. We got a fright while trying to watch a flick.
Milolii was a time of learning about native ways,
Working hard with Uncle Kawina, swimming with the local kids was how we spent our days.
Tents caked in dust, tents flooded with water, tent poles snapped.
Ben had it the worst, until his tent nearly collapsed.
Kona Beach Hostel and Open Gate brought about moments to rest,
and oftentimes tried our patience and put the small living space to the test.
But here we all are, enjoying our last moments as a group,
I hope the good times are the ones you hold through.
Aside from all the moments we've shared, it's each of you that makes this group unique beyond compare.
It's VanessaUUH, I mean Wanda, and her burst of energy.
It's Katie's kind and gentle ways, and love for Yerba mate tea.
It's Kathy always missing on a run, and Niccos fun facts that aren't always fun (but very informative).
It's Gus and his sarcasm, and his endless competitive fun.
Ty sitting in a camp chair, arms turned up, roasting in the sun.
It's Aleia always being the first one up and keeping camp clean as can be,
It's how Calvin is about to explode from excitement every time he climbs a tree.
It's Belles love for sustainability, and her 12:45 alarm,
It's Cooper's connection with kids and his sarcastic charm.
It's Ben's joy for MCing games like Family Feud and Guess That Song,
It's Loden speaking in accents and winning Egyptian rat slap all night long.
Amanda and her numerous nicknames, Nathan and his tales,
everyone playing a good game of palace, where only one loser fails.
I send you well wishes as you take on this next chapter of life.
Always remember your Aloha Ohana, and take each day in stride.