Written By Ben & Nicco
Apologies for the delay on the blog we have been very busy and without wifi for the last two weeks. When we left off we were close to finishing up with our local hosts and were starting to learn to surf! On the 28th of October we had a beautiful closing ceremony with Ekolu, Ua, Lizzie, Jackson, Makayla, Duane, Karin, and Joy the dog to celebrate our time with their community and reflect on what we learned. Each member of our group gave a small speech on their time there and then chanted the oli E Ho Mi and danced Ha'a (traditional word for hula) to cap off the day. The day after we met with our surf instructors again for a morning of traditional canoeing during which we saw several green sea turtles and three endangered Hawaiian monk seals. We finished off the tour by looking at a handmade traveling canoe. We then went to Pa'ia where Loden rocked a pair of tulip pants and we ended the night by listening to a phenomenal local artist.
Water-sports were kicked into high gear for two days as we surfed the waves and toured the ocean on stand-up paddle-boards. Not getting enough water, we went to Kapalua bay for beautiful snorkeling and to a beach called Slaughterhouse where we bodysurfed. After an early wakeup the second half of the group was able to sea kayak and saw black-tip reef sharks and then Nicco and Calvin flipped over on a kayak after a bad seal led to the kayak riding several inches deeper in the water. Fabio invited us to one last lesson of Capoeira and we gladly accepted. We then finished off the night with a heart-felt concert led by Uncle George and the Slack-key Show Ohana. As we prepared to head out to the Hana side of the Island we loaded up on snacks and Calvin, Gus, Ty, and Nathan took our excess gear to storage.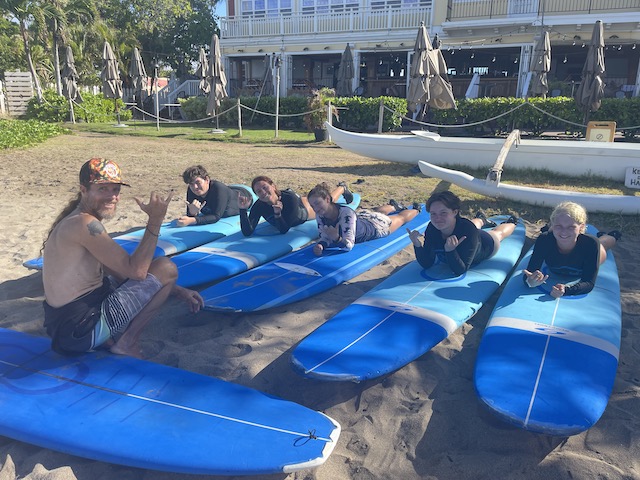 The drive to Hana was a beautiful, long journey on mountainside curvy roads with an idyllic view of the ocean, one car was a smooth quiet sleep-filled ride while the other was belting out lyrics the entire drive. As we pulled into Whispering Winds Bamboo we were woken up by the sudden change to dirt road. We then found our campsite, a patch of grass surrounded by tall bamboo that shivered in the night. (Our shower was in a creepy greenhouse and Aleia and Katharine were very spooked!) After a rain-heavy night we met up with Lipoa on Hamoa beach to weed out invasive species and then learn about Hawaiian legend and the fire goddess Pele whose bones lay in a mountain nearby. Lipoa invited us to a beautiful secluded spot on the beach with a small lagoon that mostly protected us from the strong waves.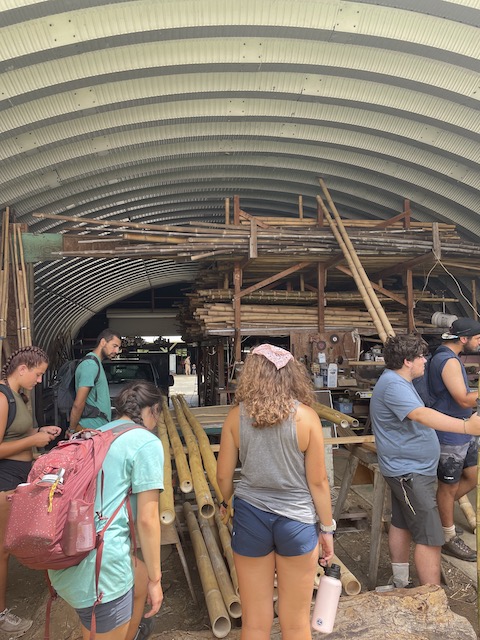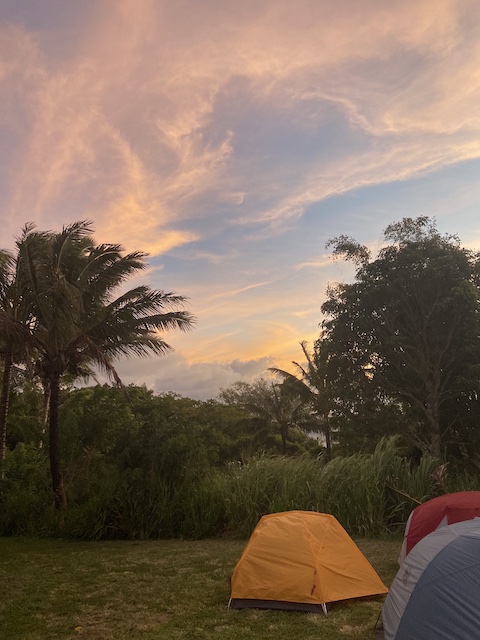 The group joined Ryan for a hike around the farm we were staying at, visited cattle, and then helped out Niles and Jeremy with weeding of plants invading on taro, pineapple, and dragonfruit patches. Vanessa was especially excited to hear that Niles plans to get her tattoo on his back! Niles and Jeremy had given us a fun activity in which we climbed a giant banyan tree and looked out at the coast. Katie enjoyed spending some time solo in the banyan tree, reflecting on the day. The next day we woke up and had a scenic drive to go and meet two more contacts by the name of Pat and Na'pua who are social activists for a sovereign Hawai'i. We split into two groups, one went with Pat and worked on clearing a walk way to a stream that will be used for taro patches, the other group worked on the patches themselves. After our work was done we went into the town of Hana and played basketball at a local park, for dinner we ended up eating at the food trucks around town.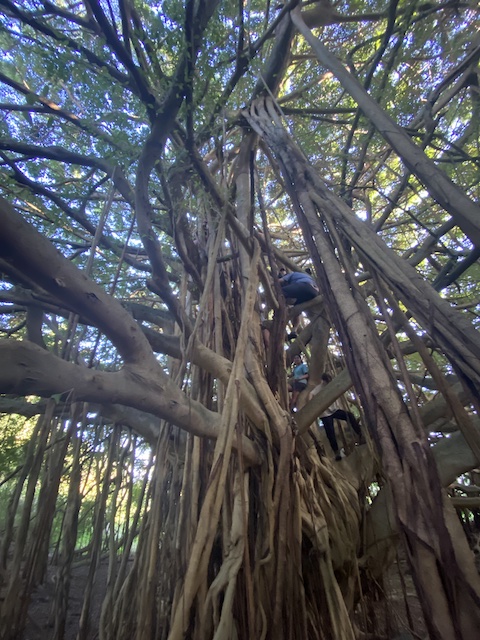 The next day we packed up the cars to the brim and headed off to our next location to resume our work in environmental conservation. In Rachel's car the music was bumping and people were chatting, conversely the music was quiet and people were sleeping in Nathan's car. We stopped half way through the drive to walk into an amazing lava tube. Finishing our long drive we arrived and set up camp, and set off for food trucks. After finishing food Nathan and several others went to Walmart to get some supplies for the next day. Ben and Gus got new blow up mattresses and Ty, Gus, Calvin, and Amanda got new comfy pants. We spent our Friday doing a walking tour of the beautiful landscape with the director of the organization, learning all about the areas species and native history. The afternoon we met with Penny Levine, an expert taro farmer of over thirty years, who taught us all about the history and importance of taro. We helped remove some sugar cane plants and prepared a lo'i (wet taro patch). We had the opportunity to plant a rare species of taro, which was such a special experience.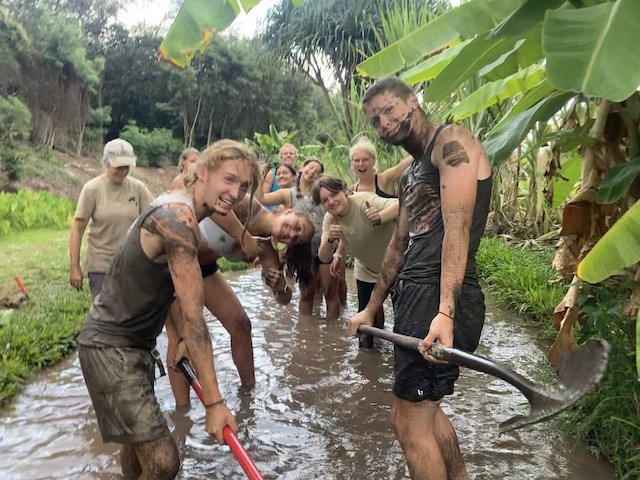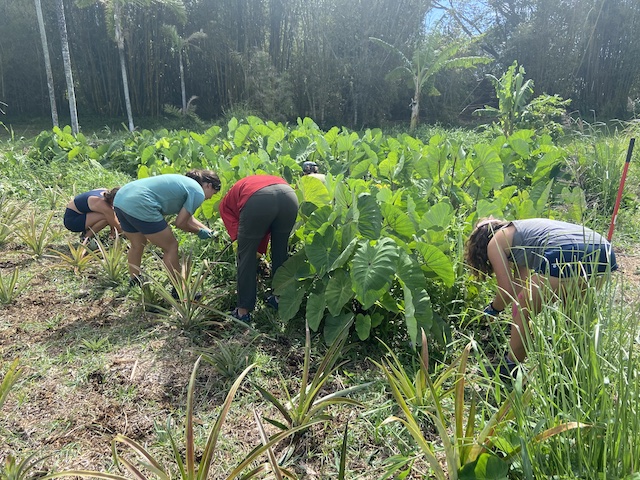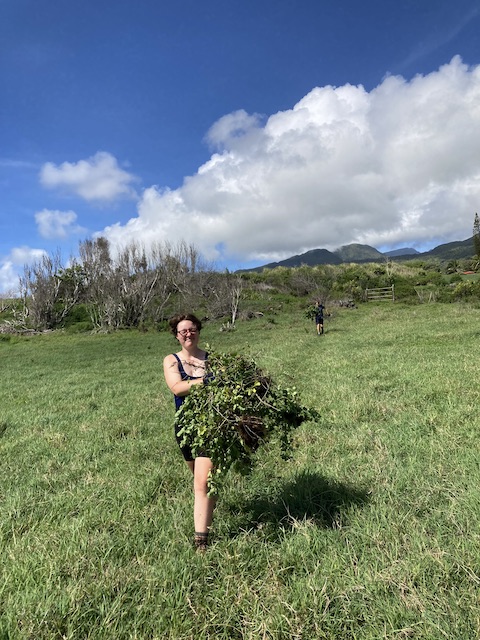 We went to Lahina to rent surfboards from our friends at Goofy Foot, some of us tackled the waves, some of us got tackled by the waves, and Cooper and Belle destroyed the waves with their masterful surfing. While we waited for people to get back from surfing, Calvin, Cooper, Gus, and Ty went to Salvation Army and got new outfits. Amanda got some ice cream and coffee. Later that day we went back to Pa'ia and visited many different stores. Some of the gang got more bling for their already amazing outfits.
The next morning we had a late start and woke up to a feast of French toast and other breakfast items prepared by Vanessa, Ben, and Loden. We left at 11:00 for an Om circle that we were invited to be a part of by Tim (the owner of Goofy Foot). After that interesting experience we came back to camp and had lunch and as a group we walked on the beach and picked up as much trash as we could before it started to rain heavily. After it stopped raining we made baked potatoes on the coals of our campfire. On Monday we started the day early and kicked off a week of working with Kai'a, a conservation and resources educator. After stretching and a short walk we got to work on clearing large swaths of cane grass with pickaxes and at some points long lines of people were tugging on ropes. After a taxing day we relaxed by spending some time doing laundry and buying food and supplies for the coming days. Our new leaders for the next 11 days are Loden and Gus and we are so excited to have them step into a leadership role and lead us through this next section of our trip. Look forward to hearing from us next week!