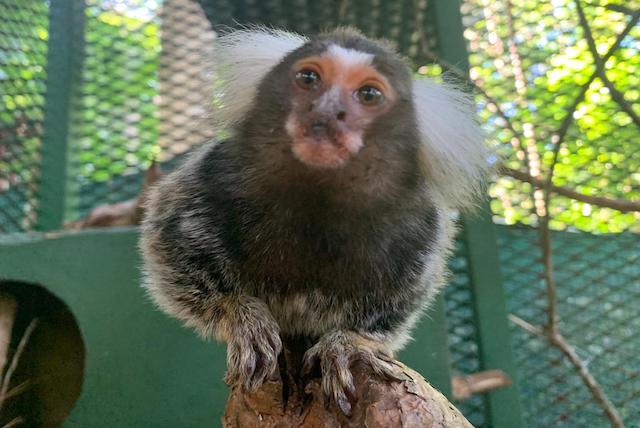 Written By Sammi, Latitudes Year '20 Costa Rica
For my Focused Volunteer Placement I chose to work at a jungle animal rehabilitation sanctuary in Costa Rica! To start my day, I eat breakfast with all of the volunteers and staff, including fellow Carpe Diem member, Sierra. We start work off by chopping fresh fruit and vegetables for the animals, and making sure everyone gets their necessary medication. Some animals housed at our sanctuary include parrots, coatis, kinkajous, sloths, capuchin monkeys, squirrel monkeys, and marmosets, just to name a few. My personal favorites are the marmosets, Darwin the Spider Monkey, and a Scarlett Macaw named Bouche. There are around 60 animals and 16 species. After preparing the food, we go clean each enclosure and distribute food. We do this twice a day. With our extra time at work, we prepare enrichments. These can be reconstructions of cages, where we go out to the jungle and chop new trees with machetes, or find different things to put food in, such as bamboo chutes or coconuts. This is to keep the animals entertained and not bored, since they will live the remainder of their lives in the sanctuary. Once in a while, I will give a two hour tour of the property to the public, or help out in the clinic. In my free time I take naps (it's more exhausting than it sounds, I swear), spend time with the wonderful people I've met here, go to the beach, read, or visit the towns of Quepos and Manuel Antonio.
I am beyond grateful for taking a gap year, and especially traveling with Carpe Diem for two semesters. I've learned so much through this whole process and gained amazing, hands-on experience I'll use forever. Most importantly, I've met life-long friends along the way, from around the world, and made unforgettable memories. I'm very proud of myself and how much I've grown throughout this past year.
¡Chao amigos y familia!
¡Te extraño y te amo!
XOXO, Sammi