Semester in Spain & Morocco
Spain and Morocco: a cultural, geographic, and historical gateway that has been an epicenter of human activity and migration for millennia. Clearly visible from either side of the Strait of Gibraltar, these lands are distinct in their cultural identities, yet undeniably linked in their shared history, geographical proximity, and as the primary corridor between Europe and North Africa.
From the soaring High Atlas Mountains to the UNESCO World Heritage site of the Marrakech medina; from the legendary Strait of Gibraltar to the verdant pastoral landscapes of the Camino de Santiago, Carpe Diem Education provides an opportunity to study human migration and cultural preservation, in the midst of some of the most fascinating regions in the world.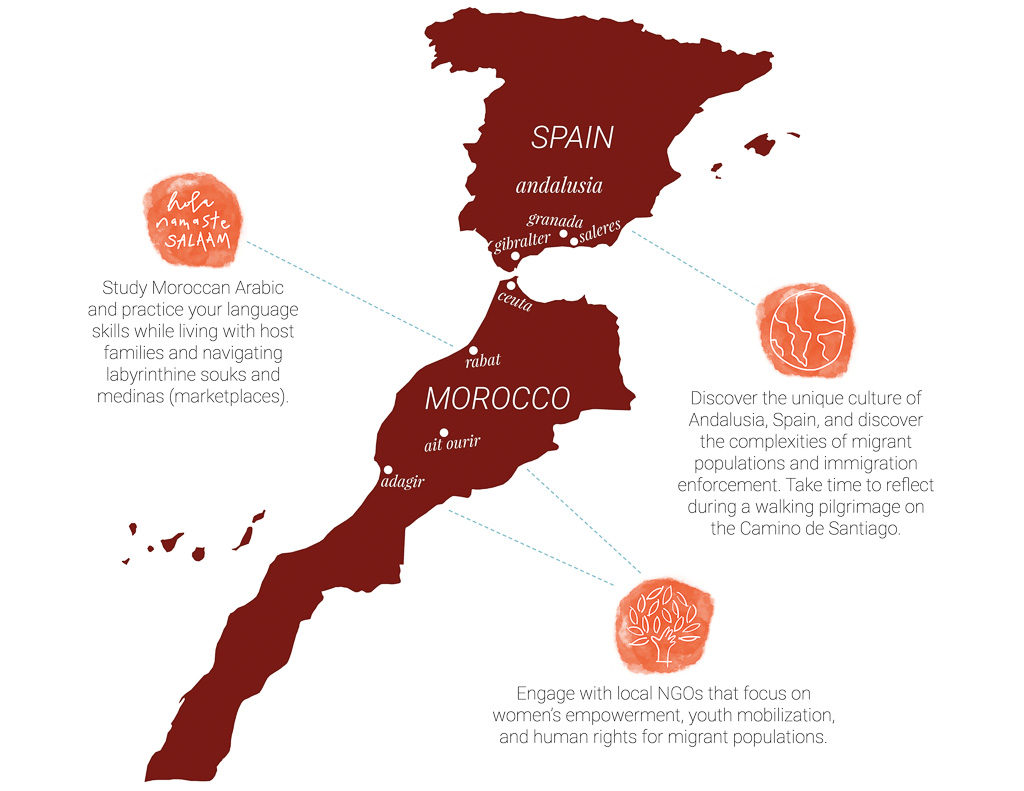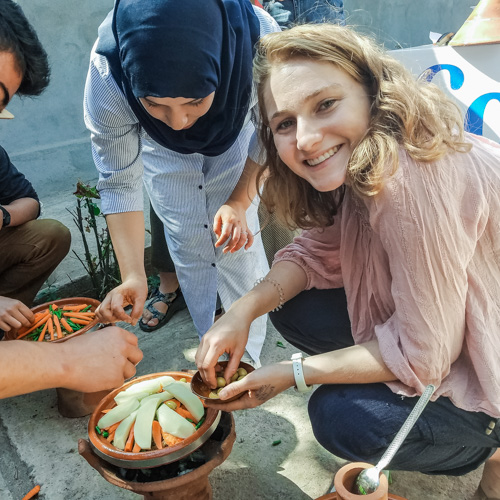 This program is closed for the Spring 2022 and Fall 2022 semesters. Please contact us with any questions.
Length
Semester
Program dates*
Spring 2022
CLOSED
Fall 2022
CLOSED
* Dates may fluctuate depending on flight times and availability.
Group Size
2 Overseas Educators and up to 13 students
Eligibility
Our typical student is between 17-22, though we sometimes work with students slightly outside that range depending on circumstances.
College Credit & Financial Aid
Learn more about: College Credit & Financial Aid
Language Requirements
None
Cost: 
$14,700
Program tuition includes all food, accommodations, scheduled program activities, and international travel insurance for the duration of the program. International airfare and spending money are extra. International airfare estimated at $1500 - $1700.
About our Spain & Morocco Semester

Steeped in tradition, the Andalusian region of Spain boasts a unique culture unto itself. Under Moorish rule for nearly 8 centuries, the influence of the Arab world is seen in tradition, cuisine, culture, and architecture.  Yet this is not only a historical reality. Even today, there are North African communities, markets, and sectors that are thriving in the cities of Granada, Málaga, and Córdoba, and throughout the Iberian peninsula. 
Questions We'll Explore: 
What are the underlying realities of these communities?

How have North African migrants been welcomed into Andalusian society?

What is their legal status?

Why do North and Sub Saharan African migrants, past and present, feel compelled to make the dangerous sea crossing in order to find a new life in Spain?
During your gap semester we'll explore these questions as we engage with organizations that are working to address issues related to immigration and human rights.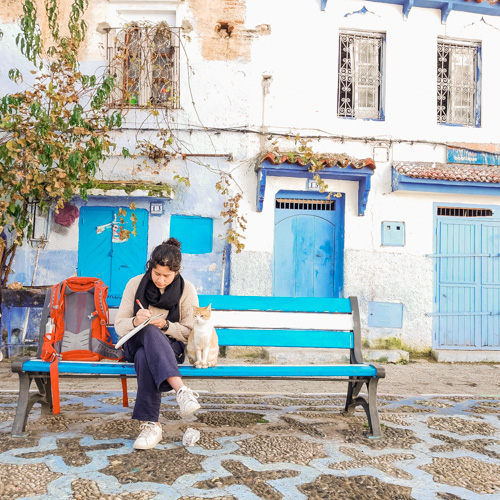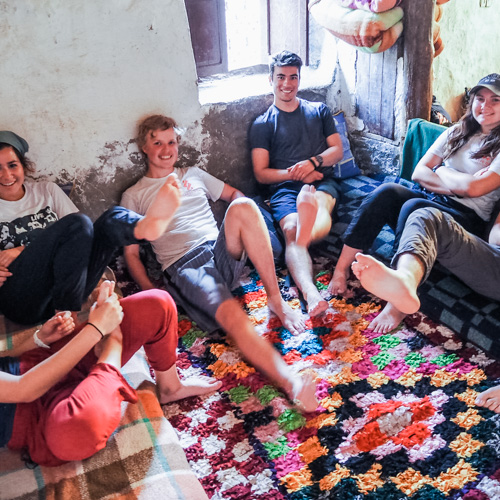 Crossing the Strait of Gibraltar by boat, we'll go through the land border of Ceuta (a small Spanish enclave). Welcome to Morocco!
Diving into the Moroccan experience, we live with host families while studying Moroccan Arabic (Darija). We'll discover the tremendous hospitality of Muslim cultures, and the inner workings of family and social life.
We'll practice our Arabic while exploring the immense souks and medina of Marrakech. A world unto themselves, they pulse with a rhythm that has spanned centuries of activity; they are truly the heart of Moroccan culture, and where we witness the interplay of people, place, and culture.
We partner with local NGO's that are working to promote women's empowerment and youth mobilization initiatives and discover their successes as well as the socio-cultural obstacles that these progressive movements still face.
Carpe Diem Education's Spain/Morocco semester provides an opportunity to discover a unique region of the world, as well as attain deeper insight into complex issues of human migration, the meeting of trans-continental cultures, and the geopolitical realities of North Africa and Europe. 
"Carpe provides an extraordinary opportunity to discover a new part of the world."
-Emily,
CDE Student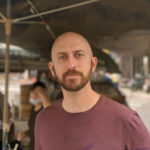 "What I love about this program is the level of immersion our students get through the variety of homestays and language study." 
-Jonathan, 
Program Director
"This gap year program provided me with many unique, enriching, and unforgettable experiences."
-Ady,
CDE Student