Tanzania, Rwanda, Uganda: a place of epic landscapes and environmental diversity, the region is home to a multitude of tribal cultures that are facing the increasing pressures of modernization, rural to urban migration, and climate change. These communities are finding new ways to retain their unique identities and traditional ways of living, while understanding the importance of education in adapting to rapid change.
From the headwaters of the Nile River, to the Spice Island of Zanzibar; the highland coffee growing regions of Rwanda, to the terraced hillsides of Lake Bunyonyi, Carpe Diem Education brings you to a land that is home to the Great Rift Valley, the cradle of civilization, and a region that has hosted communities since the dawn of human history.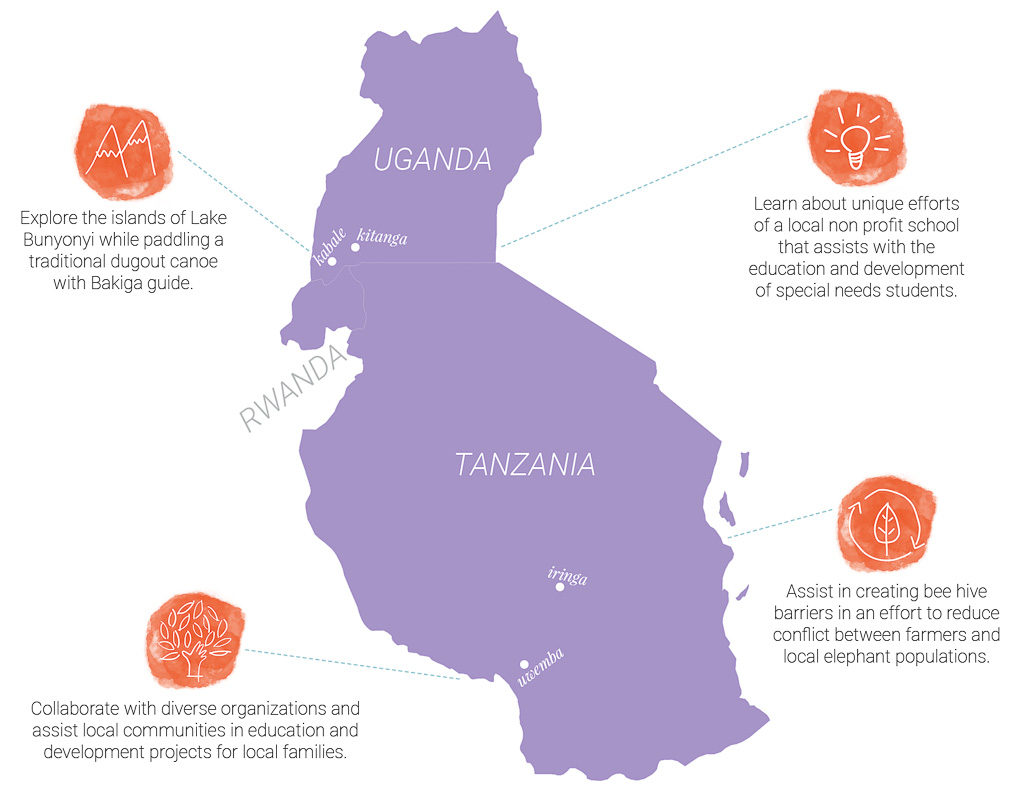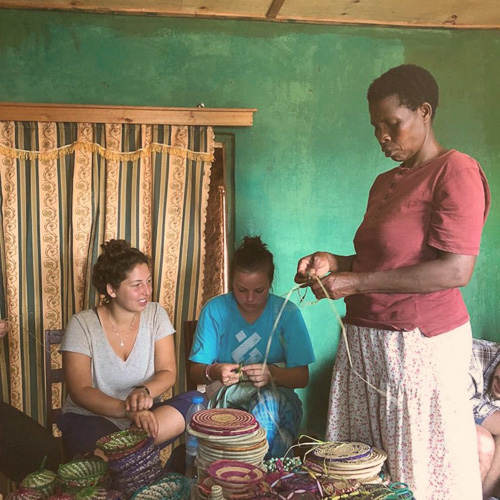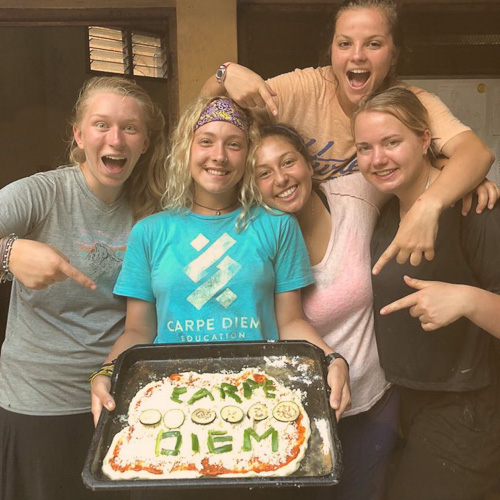 Length
Semester
Program Dates
CALL FOR DETAILS
Group Size
2 Overseas Educators and up to 12 students
Eligibility
Our typical student is between 17-22, though we sometimes work with students slightly outside that range depending on circumstances.
College Credit & Financial Aid
Learn more about: College Credit & Financial Aid
Language Requirements
None
Cost:
$12,900
Program tuition includes all food, accommodations, scheduled program activities, and international travel insurance for the duration of the program. International airfare estimated at $1700-$1900; internal East African flights estimated at $400-$600; visa fees estimated at $230.
About Our East Africa Semester
In Rwanda, we discover the atrocities that occur when large scale war and conflict arises on a national level. While visiting memorial sites related to the Rwandan genocide of the 1990's, we learn more about how past colonization affects cultures and exploits social tensions even in modern times. As we process the impact of these events, we also witness the reconciliation and peace process that manifests as a common movement toward shared prosperity. As an example, we'll visit the coffee growing regions of Rwanda, which produce some of the finest coffees in the world, and now serve as an example of successful large scale agricultural and economic models that are bringing communities together.
In Tanzania, we explore the relationship between people and their environment. We'll participate in hands-on work building natural barriers that protect agricultural fields from resident elephant herds. During our time here, we'll have a firsthand encounter with the animal kingdom, going on a 2-day safari in Ruaha National Park.
Moving south, and far from the reaches of tourism, we engage with a local NGO focusing on local community development, women's cooperatives, and initiatives designed to empower communities living in remote village settings. While living with homestay families, we learn basic Swahili, discover rural Tanzanian village life, and enjoy time spent with our new family and friends.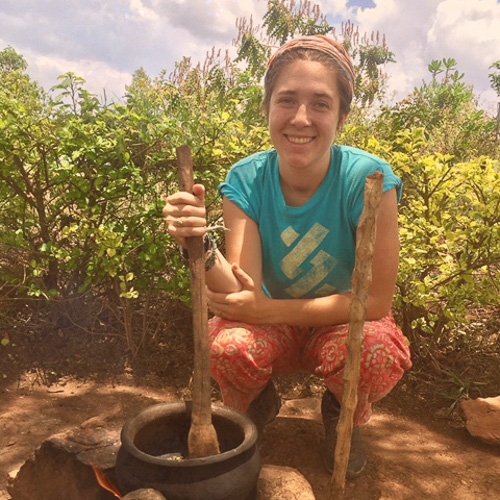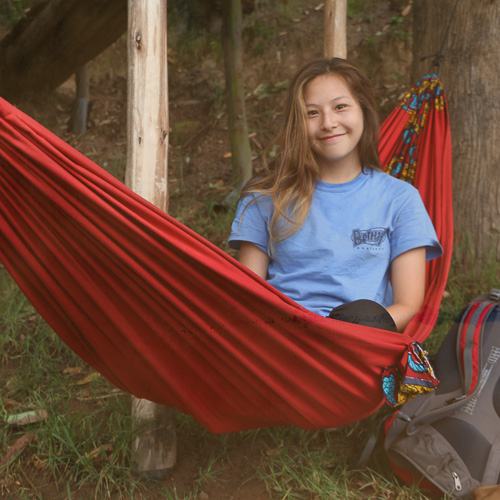 East Africa provides fertile ground to study the complexities of community living, learn about the challenges of providing and accessing education in rural settings, and in witnessing the interconnectedness of people and planet.
Within the Kabale district of Uganda, we'll dive into community living as we explore educational models in a rural school for special needs children. With few resources, and in the context of a broader social stigma on special needs populations, this school works to promote well being for this marginalized group. We continue to engage with locals as we canoe and trek the Lake Bunyonyi regions, hearing stories from village elders about the changes the region has seen over the past few decades.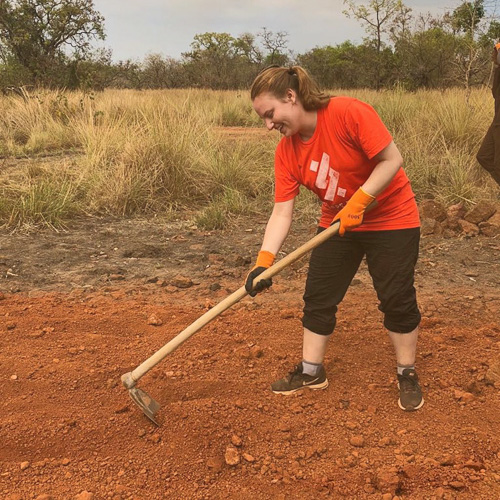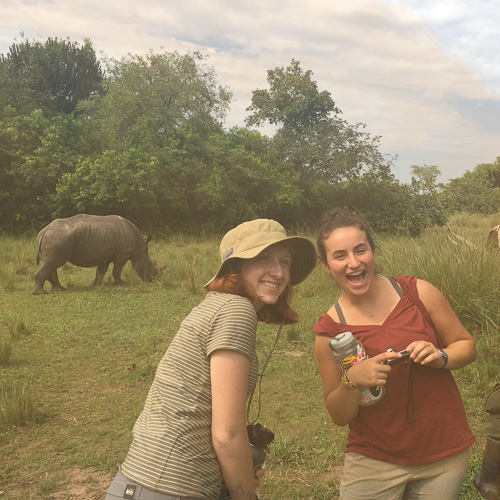 Finally, we travel to the island of Zanzibar, a semi-autonomous region of Tanzania with a unique history of human movement and occupation. We'll explore Stone Town, identified as a UNESCO World Heritage Site, and a center of cultural and artistic activity. We'll explore the fascinating convergence of culture here, observing the diverse influences of Bantu and Arabic cultures, as well as evidence of past European political influences.
All the while, during your gap semester we address the questions:
How is globalization impacting people in remote regions of the world?

How can these remote communities remain intact and retain their identity in the context of broader global trends of industrialization and rural exodus to urban areas?

What role does education play in the process of adapting to rapidly changing conditions?
Carpe Diem's East Africa semester provides a means to connect with unique communities and to learn about the challenges they face in merging local tradition with rapid change. Through studying these issues, and the role that education plays in creating successful outcomes, we discover the means by which communities can face an uncertain future with a sense of purpose and empowerment.   
"I have gained so much from this trip and I am forever grateful!"
-Claire,
CDE Student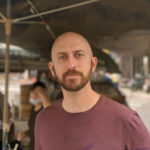 "What I love about this program is being able to help open students eyes to a small portion of Africa. East Africa is vibrant, full of life and an amazing part of the world to visit!"
-Jonathan,
Program Director
"The semester I spent in East Africa was one like no other. Not only did I meet a tremendous group of people, I also met myself."
-Kaityn,
CDE Student